Win this poster!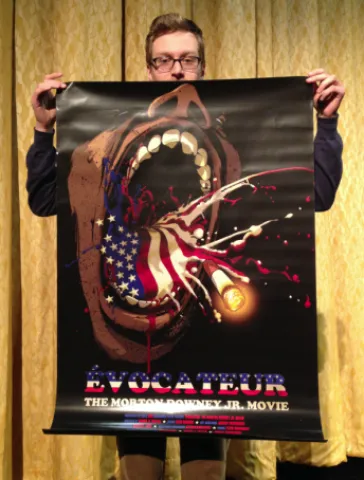 Before shock jocks, Jerry Springer, and Fox News, one man ravaged the talk show format and delivered his own brand of confrontation and in-your-face antics. His name was Morton Downey Jr., and he turned political debate into shouting matches, occasional fistfights, and downright mayhem.

Featuring interviews with Herman Cain, Pat Buchanan, Chris Elliot, and Gloria Allred, the new documentary Évocateur: The Morton Downey Jr. Movie probes the methods and motivations of not only Downey's controversial television persona, but the man he was when the cameras were turned off.

The Dryden Theatre will be host to the Rochester Premiere of Évocateur: The Morton Downey Jr. Movie on Saturday, January 18 at 8 p.m., and we're thrilled to welcome the Director of the film, Seth Kramer, as our special guest for the evening.

How well do you know your Morton Downey Jr. trivia? For each correct answer your name will be entered to win a pair of tickets to the screening and one lucky person will win a signed poster! Winners announced Friday, January 17 at 4 p.m. ET.

1. Which of these guests did not appear on the Morton Downey Jr. Show? A. Timothy Leary B. Abbey Hoffman C. Meir Kahane D. Yasser Arafat.

2. What famous surf tune is Morton Downey Jr. incorrectly credited with writing?

3. What talk show guest guest was at the center violent outbreaks on both the Morton Downey Jr. Show and the Geraldo Rivera Show?

Leave your answers in the comment section.