George Eastman left behind a paper trail- one that is so detailed in letters and photos that we are able to trace his daily life during certain periods of time. His letters and photographs trace his relationships with different family members, the growth of Kodak, and his travels around the world. It is because of this documentation, and the hard work of our Archival staff, that we can present this story of what Mr. Eastman was doing, exactly 100 years ago… Jesse Peers, Legacy Collection Archivist at the George Eastman Museum, shares George's trip from July 1916.
---
When planning for a trip, George Eastman's attention to detail was astounding. But his trip to Europe in the summer of 1916 was quite different: He received an unexpected call from Europe and decided July 7, 1916 to sail four days later with little preparation in order to attend to business matters. He sailed from Hoboken, New Jersey aboard the New Amsterdam and arrived in England July 24th.
What emergencies required Eastman's prompt attention are unclear but we know he consulted French film pioneer Léon Gaumont and inspected film machines at Paris's Pathé factory. Eastman was determined to establish a price for Ciné film that no one could compete with. It's also possible he had to come to the defense of Simon V. Haus, an important Kodak chemist and overseer of European factories when rumors circulated that he was "in sympathy with the [German] enemy." Tentative plans were discussed for a Paris Kodak factory that would produce plates, paper and film to supply France, Belgium, Switzerland, Italy, Spain and Portugal. Eastman used his travels to gather "a lot of information on future prospects of American business in Europe."
Eastman later remarked to his friend Murray Bartlett that the trip was "purely business...In fact, you can't get over there or get around without some pretty good excuse." After a lot of finagling with French authorities, Eastman secured permission to visit the War Front in Rheims with Lieutenant Jacques Raiga. Visiting the trenches for half a day was one of the most interesting experiences of Eastman's life. Though "it was very quiet in that section," he was "much impressed by the matter-of-factness in which people just inside the firing line were living their lives and carrying on their occupations without paying attention to the noise of the shells." Eastman was disappointed in not being able to get into the Vosges, another part of the War Front, as he had been promised.
It seems Eastman also visited Le Havre where the Allies had established a number of hospitals for wounded soldiers. Eastman, who was particularly interested in hospital work and had donated regularly to the American Ambulance Hospital of Paris, was eager to inspect their receiving hospitals.
Eastman took his Vest Pocket Kodak Camera along on his trip to Europe and took 19 pictures of the Rheims Cathedral, trenches, Lieutenant Raiga and damage to the area.
Eastman sailed from Bordeaux on August 12th aboard the Lafayette and arrived in New York on August 22nd. Since he didn't consider the European trip a vacation, he immediately set about making plans for a Western hunting trip in North Dakota and Wyoming. Unfortunately the trip was cut short when Eastman developed a painful abdominal abscess. Eastman's good friend Thomas Baker of Kodak Australasia feared Eastman picked up "a bug of a most virulent kind from some of the German trenches." As he recovered in bed, Eastman wrote friends about his trip and thanked Lietenant Raiga for the experience, sending him enlarged prints made with his "little Vest Pocket August 10th."
Photos taken by George Eastman on his 1916 trip to Rheims, France.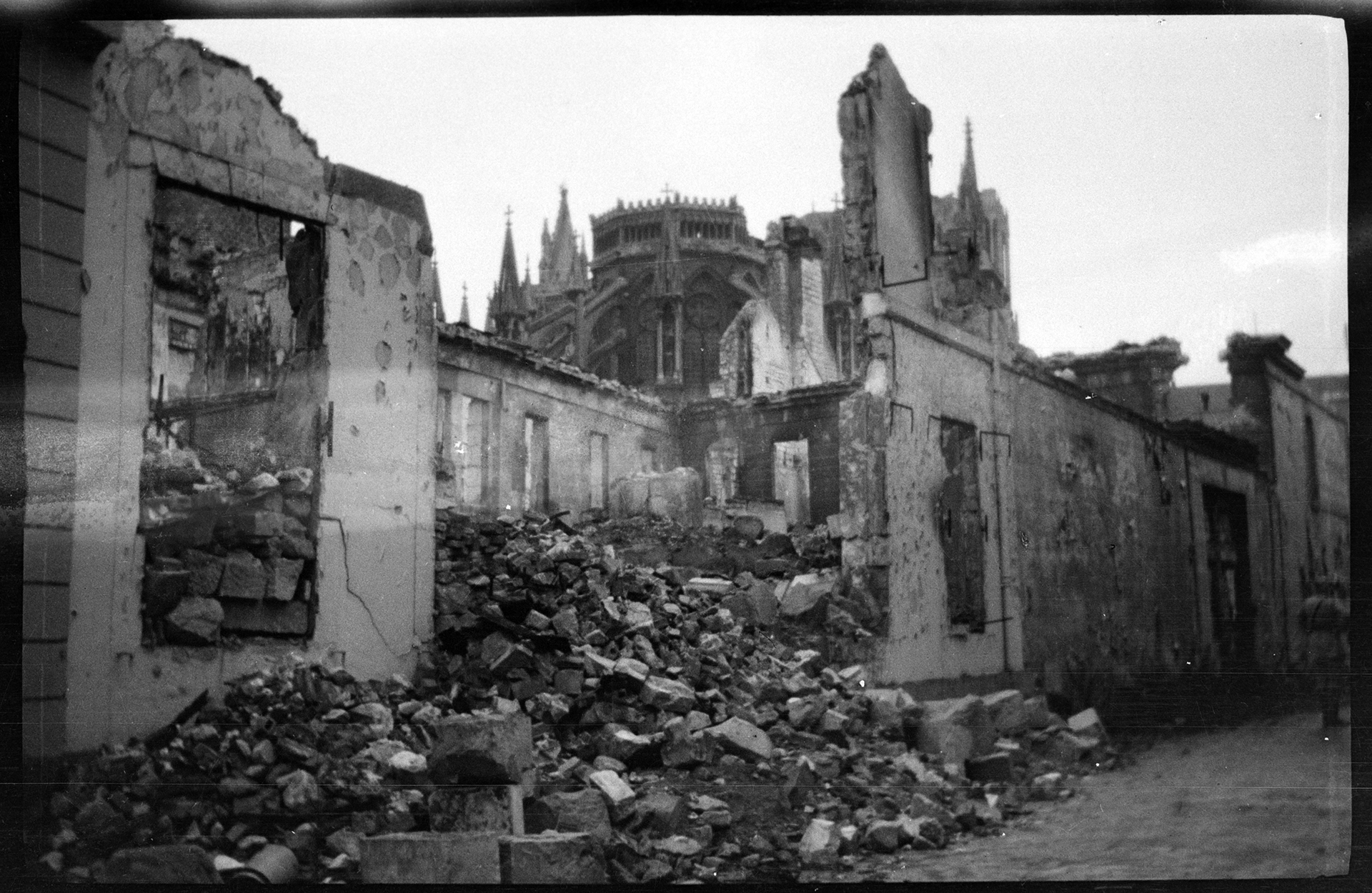 Building reduced to rubble, Rheims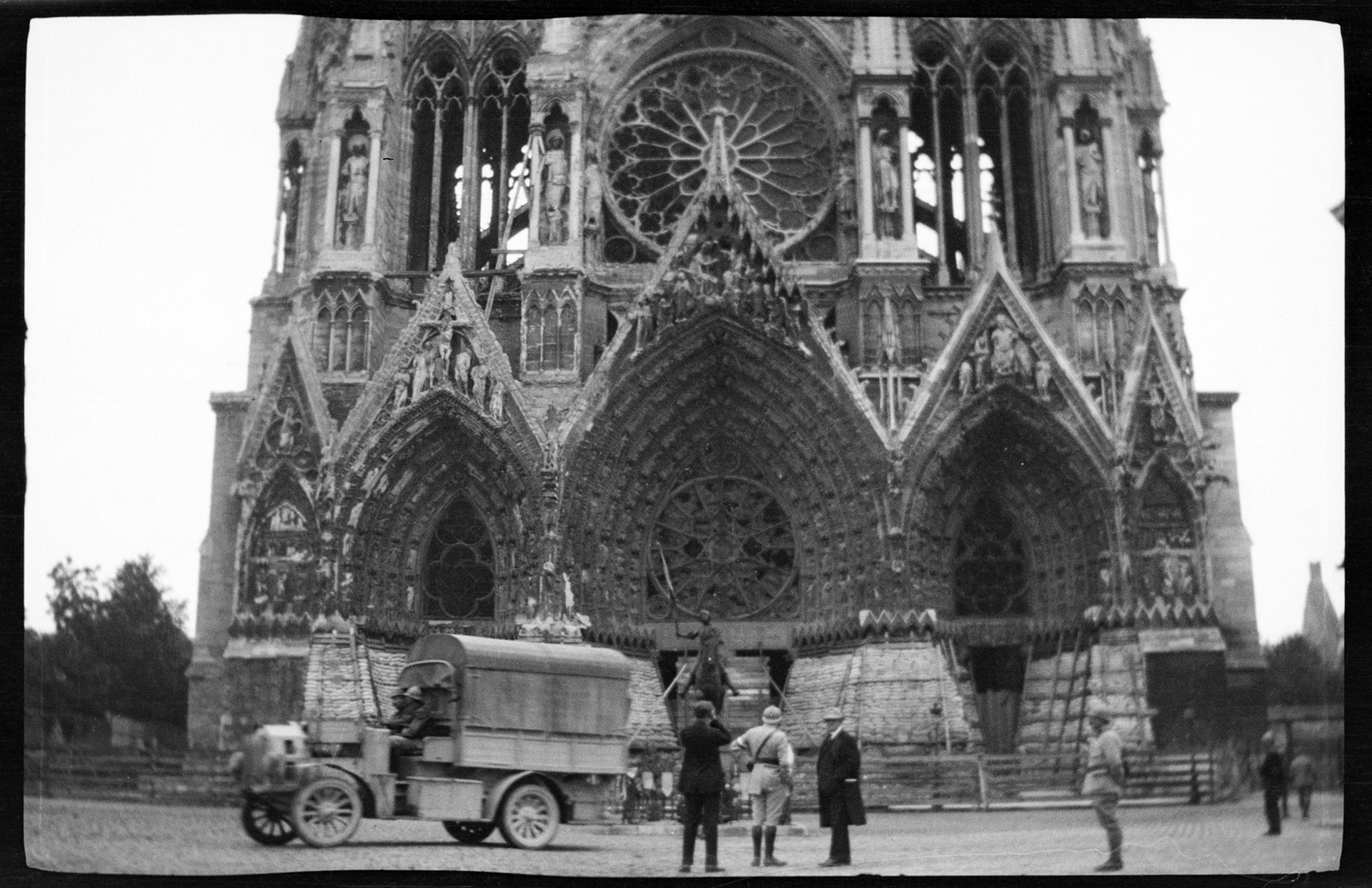 Rheims Cathedral protected from bombardment by sandbags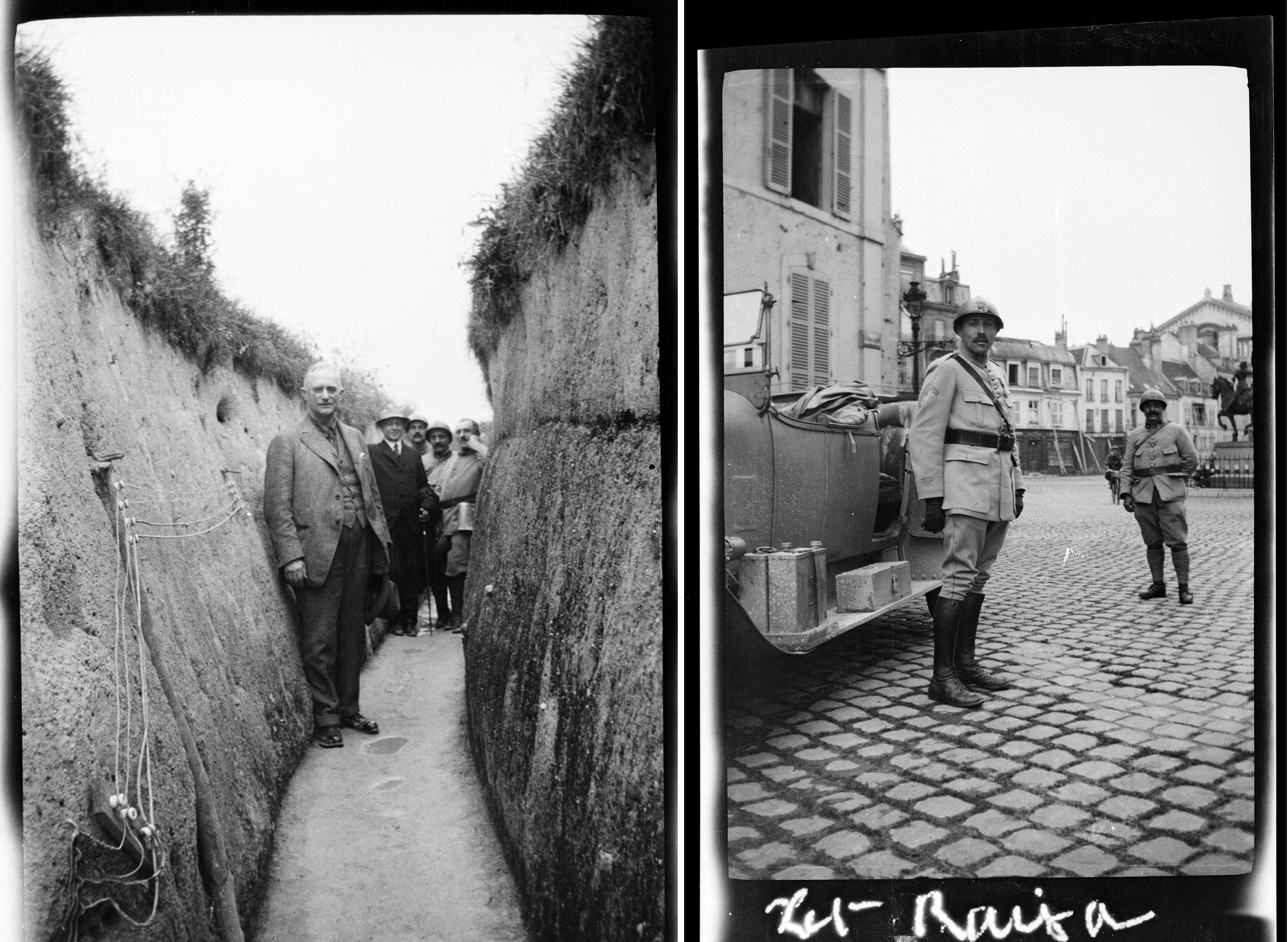 Left: George Eastman visiting trench near Rheims; Right: Lieutenant Jacques Raiga, Eastman's military escort