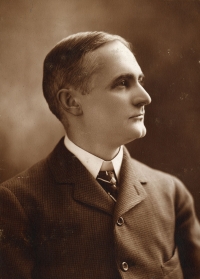 Eastman's biggest public moment of 1916 came when he made a political speech to an audience of about 4,000 people at Convention Hall on October 19th. The occasion was a rally for the Business Men's League and Hughes Alliance (Charles Hughes was the Republican candidate for President that year) and Eastman was tasked with introducing Dr. David Jayne Hill who spoke on "industrial preparedness" - the need for the US to look ahead to a postwar world and to defend its commercial interests. A quiet man who didn't enjoy the public spotlight, Eastman didn't make many speeches. So he was pleased when Rochester's democratic paper said the following day that he made a good public orator. Here are Eastman's introductory remarks in their entirety:
---
"In these days, if a man utters a word of warning, or even if he does not maintain an attitude of blind optimism, he is likely to be called a calamity howler. I would not mind at all being called a calamity howler if I had the gift of words to make you understand my fears of what will happen to this country when the war is ended unless we prepare ourselves to meet the conditions which will then arise.
"It may be that we would not wholly agree upon just what is likely to happen, but we could probably agree upon a few fundamental premises. For instance, that the former combatants will be in debt almost if not quite up to the limit of sufferance; that there will be a struggle for employment by their returning soldiers, complicated by the fact that many women attracted to the ranks of industry by war conditions will not care to return to household occupations; that the governments emerging from war will be obliged to adopt every means possible to protect their workmen and their national finances by confining importations as far as possible to raw materials and that they will inaugurate a struggle for neutral trade fiercer than the world has ever seen.
"We could probably also agree that the United States will emerge from the war period richer than ever, its people flushed with prosperity and as confident as always that nothing  can ever happen to interfere seriously with our continued commercial progress and welfare. Under these conditions what is going to happen if we do not prepare? Are we going to meet here at home our tariff-protected competitors with the open door? Are we going to try to meet them in neutral countries on equal terms?
"These are some of the questions that we cannot decide too early, because our foreign competitors are already laying their plans for the struggle. Their plans are being made by their most competent advisers, not the most incompetent. Industrial preparation it seems to me we must have, and I am glad that we have with us tonight a speaker who is particularly qualified to talk to us upon this subject: a man of broad views, a trained observer, of unusual experience, formerly minister to Switzerland and The Hague, assistant secretary of state, recently ambassador to Germany, at one time president of the University of Rochester. Our distinguished fellow citizen of Rochester needs no introduction from me: Dr. David Jayne Hill."
-George Eastman, October 19, 1916
Wednesday, October 19, 2016