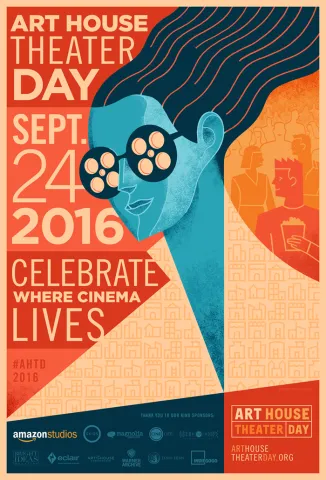 This Saturday, we will be celebrating the legacy of independent theaters as part of Art House Theater Day. According to their website, "In an age where media has become more digital than tangible, more solitary than social, art house theaters remain the physical spaces where film lovers congregate and connect with intrepid, creative filmmaking. They are the beating heart for new and exciting cinema that is shaping the future of the medium."
Here at the Dryden Theatre, we are committed to presenting motion picture films in their original format; honoring and reproducing their historical—and aesthetically supreme—modes of exhibition. We are excited to be part of this day celebrating where cinema lives.
In honor of this special event, we will be screening Greendale (2003), this Saturday at 8 p.m. The film is an appropriate celebration of an independent theater associated with the George Eastman Museum, because it is one of the best American independent films of the decade, performed by non-professional actors, and was shot in Kodak Super 8. Handmade on a shoestring budget in a small town, Neil Young's fourth feature film looks like (and actually is) a home movie but displays an awesome cinematic talent and feels like an epic of universal appeal. Crazy Horse's haunting music and a deliberate revival of the 1970s anti-establishment protest show that creativity needs no money to produce a truly subversive, compelling work of art. The use of Kodak's Super 8 camera further lends to the independent nature of the film. The Super 8 was first manufactured in 1965 by Kodak for their newly introduced film format, Super 8mm, which was meant to be more conducive to amateur film. The 
Jurij Meden, the curator of film exhibitions, summarizes the film and why he believes it is the perfect way to celebrate Art House Thater Day. 
Bernard Shakey's Greendale is a feature length rock opera version of Neil Young's conceptual eponymous album from 2003, hailed by several critics as Neil Young's most accomplished musical work in the last two decades. Shakey (the directorial pseudonym of Young) has handcrafted a story of a fictional and seemingly idyllic Small Town, California, under attack by various malfunctions of contemporary society such as mindless consumption ("How can all those people / Afford so many things? / When I was young we wore / What we had on"), mass media ("It ain't a privilege to be on TV / and it ain't a duty either"), corrupt politicians ("Those people don't have any respect / so they won't get any of mine"), unsigned Kyoto agreement ("Don't care what the governments say / They're all bought / and paid for anyway / Save the planet for another day") and similar. 
And just like the good folks of Greendale, who emerge victorious at the end, "You can make a difference / If you really try," so can your support of the Art House Theater Day and the Dryden ensure future screenings of quality films in your neighborhood.
Thursday, September 22, 2016