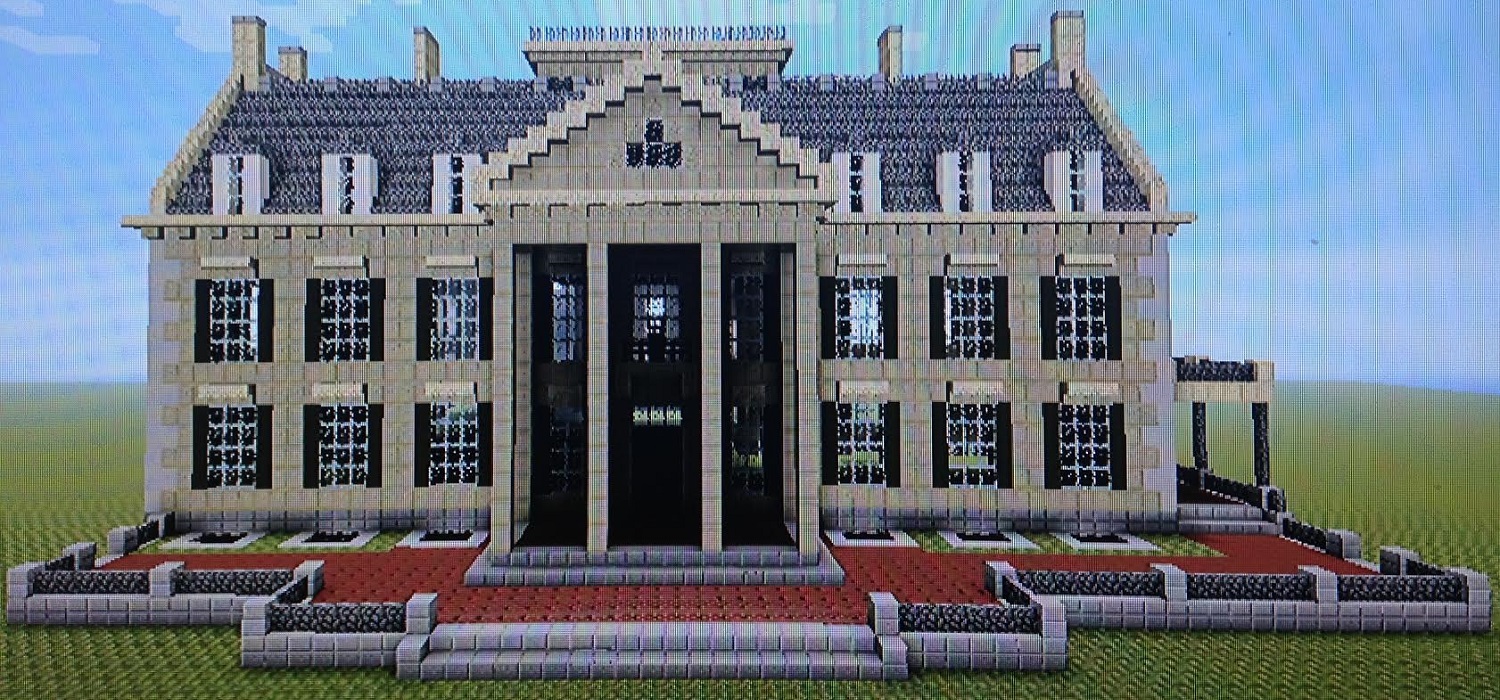 This week, we have a very special guest post. A few weeks ago, Mary Cavagnero tweeted an amazing picture to the Eastman Museum account of the Mr. Eastman's mansion recreated in Minecraft by her grandson, Jack. Once we had seen this first image, we wanted to know more! Jack was kind enough not only to share the images of the mansion and gardens, but also to write up a blog post about this process and his trip to the museum.
---
Last weekend, my grandmother took me on a trip to the George Eastman Museum, because she thought I would enjoy the experience.  She knows I like antebellum mansions.  When I saw the George Eastman Museum, I was impressed by its details. I liked seeing the old fashioned cameras and really enjoyed the dining room.  I decided to take it upon myself to recreate the house using Minecraft.
My favorite part of the museum is the mansion. The architecture of the outside of the building caught my attention.   Upon deciding to recreate the house within Minecraft, I just dove in.  I started building the mansion first, and started with the exterior.  I created the George Eastman Mansion within Minecraft using pictures I had taken while visiting, and pictures I found on the internet. The most difficult part of recreating the George Eastman Mansion through Minecraft were the gardens, but I figured it out.  I asked my mom to send me some pictures of the gardens, and I was able to build it just like the real ones.
The George Eastman Museum is one of the most interesting Antebellum-like homes I've seen. I've never seen a house with as many unique details as the George Eastman Mansion. I choose my Minecraft builds based on their unique structures, and their interesting backstories. No one that I know of has built the George Eastman Museum on Minecraft before me - I haven't seen any tutorials on YouTube.
About the Author:
My name is Jack. I'm 17 years old, and live in Irondequoit, NY with my family.  I have Autism Spectrum Disorder and I am very creative - not to mention I'm a pro at Minecraft. My previous builds were the Tower of Terror, the Haunted Mansion, the Phantom Manor, and I'm currently working on building the George Eastman House.  My dream job is to one day become a movie director/producer. 
Minecraft George Eastman Museum