Our newest exhibition, Catherine Opie: 700 Nimes Road, is a portrait of Elizabeth Taylor through her home and belongings. What is fascinating about Catherine Opie's approach to Taylor is that her photos range from ones demonstrating her fame with images of jewelry and her amazing closets, to those that are more intimate and average, like the collections of miniatures, notes in lipstick on a mirror, and a dog-eared remote control guide.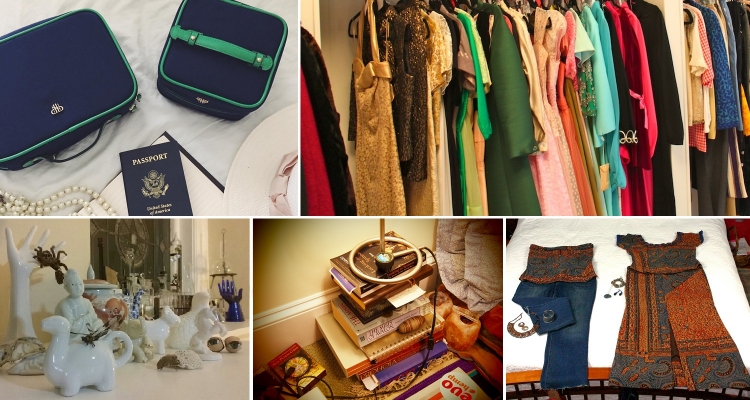 In honor of this exhibition, over the course of the next week, our Instagram account is going to be taken over by a diverse group of individuals from our community, who will share a portrait of themselves through their home and belongings. We picked this week not just because it marks the beginning of the exhibition, but also because it is Fashion Week of Rochester and the ImageOut: The Rochester LGBT Film Festival. Elizabeth Taylor was a major proponent of fashion and a LGBT rights ally, so it seemed more than appropriate to celebrate her and our community in this manner. 
Meet our takeover participants, and follow along with us each day on Eastman Museum's Instagram. 
Thursday, October 6: Jamie M. Allen (@jmallen78) is assistant curator in the Department of Photography at the George Eastman Museum. She served as project coordinator for the exhibition, working with the Museum of Contemporary Art in Los Angeles and Catherine Opie's studio. Her fashion style may best be described as "curatorial black and grey." 
Friday, October 7: Michael Gamilla is the programming director for the ImageOut Film Festival. His keen fashion sense can be seen during the festival and while he is traveling the world to bring the biggest and best LGBT films to Rochester. 
Monday, October 10: Nita Brown (@mansawear) is the owner of MansaWear, a custom-made clothing that blends Ghanaian and US fashions that are elegant, stylish, versatile and "Uniquely You!"  Using bold patterns and vibrant colored African fabrics, their goal is to create an enduring branded clothing line using high-quality Ghanaian fabrics combined with excellent tailoring. Their vision is to make Ghanaian women's clothing part of the American woman's wardrobe.  
Tuesday, October 11: Marval A Rex (@marvalarex) is a contemporary artist working in sculptural and digital installation. His work exposes the complex nuances of gender play, queer sexuality and the trans anatomy. Marval's work can be viewed at kinglyvisions.com. His most recent work can be seen in his studio at the Genesee Center for the Arts in Rochester, NY, where he is the current artist in residence. 
Wednesday, October 12: Ruya Kirac (@ruyakiraccc) is a fashion blogger at sweetshortandstylish.com and a senior in Media Management at St. John Fisher College. When she's not studying or writing about the latest trends on her blog, she's usually exploring new places in Rochester, doing a DIY project, or practicing my photography skills in the Eastman Museum gardens. 
Thursday, October 13: Treasure Trove Vintage (@treasuretrovevintage) was founded in 2011 by Morgan DeLapa. Her love for vintage clothes is truly indescribable and she believes that every piece tells it's own story. Treasure Trove Vintage is located at 121 Park Ave in Rochester and specializes in quality, highly curated vintage pieces from the 1900's-1990's. 
Friday, October 14: Amanda Kiesl (@kiesla) is pursuing her master's in photographic preservation and collections management at the University of Rochester and the George Eastman Museum. She served as project assistant for the Catherine Opie exhibition, assisting with research, layout, and compiling docent materials.