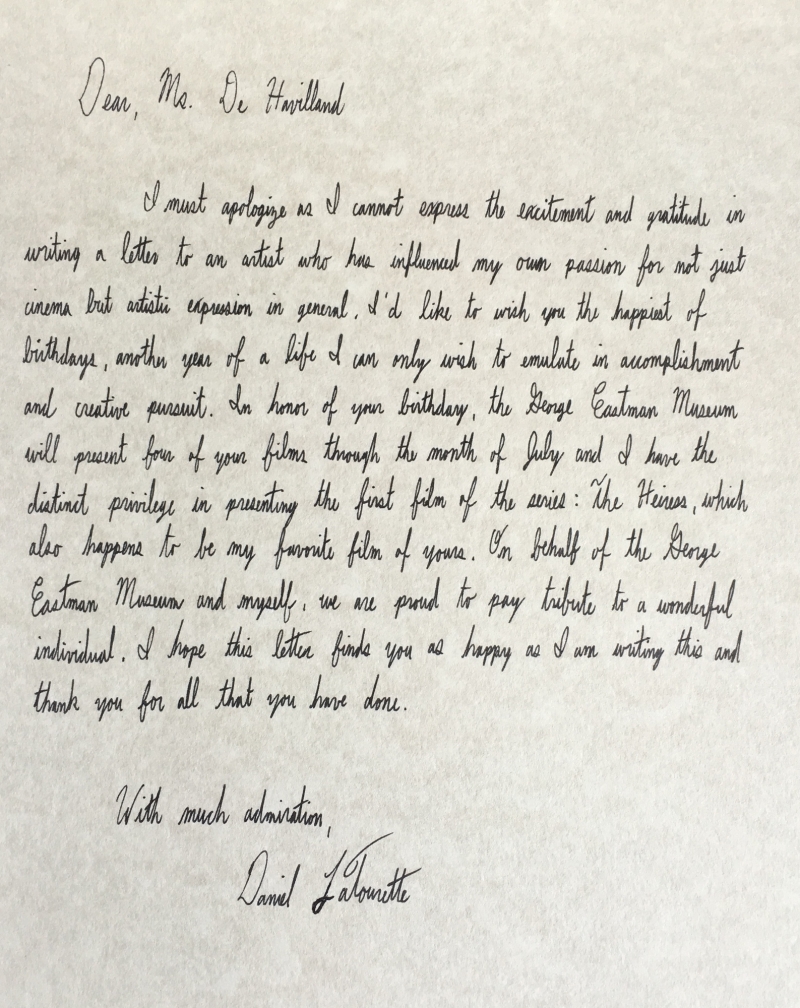 Dear, Ms. De Havilland,
       I must apologize as I cannot express the excitement and gratitude in writing a letter to an artist who has influenced my own passion for not just cinema but artistic expression in general. I'd like to wish you the happiest of birthdays, another years of a life I can only wish to emulate in accomplishment and creative pursuit. In honor of your birthday, the George Eastman Museum will present four of your films through the month of July and I have the distinct privilege in presenting the first film of the series: The Heiress, which also happens to be my favorite film of yours. On behalf of the George Eastman Museum and myself, we are proud to pay tribute to a wonderful individual. I hope this letter finds you as happy I am writing this and thank you for all that you have done.
With much admiration,
      Daniel LaTourette
      Box office receptionist at the Dryden Theatre
---
Olivia de Havilland at 100 Film Series
(William Wyler, US 1949, 115 min., 35mm)
In 1998, the Dryden last screened The Heiress, a film for which Olivia de Havilland received both the Golden Globe and the Academy Award for Best Actress in 1950. In honor of her 100th birthday, the Dryden will be showing this award-winning performance once again. De Havilland plays a wealthy spinster wooed by fortune-hunter (Montgomery Clift) in early 20th-century New York City. This Hollywood adaptation of Henry James's Washington Square features assured direction by the great William Wyler and a superlative music score from Aaron Copland.
The Private Lives of Elizabeth and Essex
(Michael Curtiz, US 1939, 106 min., 35mm)
At age 30, Bette Davis took the role of the aging Queen Elizabeth for this film, while Errol Flynn played her lover and favorite, the Lord of Essex. Olivia de Havilland's strong performance as Lady Penelope Gray almost outshines both main stars. Fanfare and pageantry abound in this tale of love and betrayal in the Tudor court, but those looking for historical accuracy should beware. Based on a play by Maxwell Anderson, Curtiz's film received five Academy Awards. 
(John Huston, US 1942, 97 min., 35mm)
In This Our Life, the second feature by the great director John Huston, had the misfortune of arriving very shortly after his legendary debut, The Maltese Falcon, and thus remained forever in the shadow of that quintessential film noir. Unjustly so, because this eponymous adaptation of the 1942 Pulitzer Prize–winning novel by Ellen Glasgow is a superb romantic melodrama. It sees the director tackling serious issues in a mature way that most people associate only with the latest phase of his illustrious career. Olivia de Havilland shines as a humble younger sister to spoiled and sinister Bette Davis who runs away with de Havilland's husband, causing misery and misfortune for everyone around her.
(Michael Curtiz, US 1958, 103 min., 35mm)
Soon after the Civil War a Confederate veteran (Alan Ladd) travels the Yankee North in search of a doctor to cure his son's muteness. The ten-year-old boy hasn't uttered a single word since he saw his mother die in the war. Father and son find unexpected solace on the ranch of a stubborn and fiercely independent local woman (Olivia de Havilland), but soon become involved in her struggle to keep the ranch from falling into the hands of a greedy landowner. This unusually poignant western drama achieved immortality thanks to the assured direction by Michael Curtiz (Casablanca) and by Olivia de Havilland's perhaps most mature and elegantly restrained performance.