The creation of a finding aid for any archival collection is always good news for both archivists and researchers. The creation of four finding aids calls for a celebration -- and a little explanation of why we're so excited.
The French term "fonds" originated with the 19th-century archivist Natalis de Wailly and refers to a group of records that accumulate naturally as an individual, family, or organization goes about its normal course of business. In archival parlance, fonds share a common "provenance," meaning they originate from the same creator or creating activity. Unlike "collections," in which items are intentionally grouped together through conscious human action and may share common characteristics but are of different provenance, fonds are naturally occurring and therefore considered "neutral" and of much greater evidential value. Simply put, fonds are "organic" and "objective," whereas collections are the artificial result of an individual's subjective decision-making.
The George Eastman Museum is home to a number of important archival collections--groups of records documenting the activities of historically significant individuals, families, and organizations. These collections (in the archival world, they are often referred to as "fonds") are of great value to anyone interested in the histories of photography, moving images, George Eastman, and innumerable other areas of research. But archival collections are by nature complex, multi-leveled entities, and navigating through boxes of records without a proper discovery tool can get very complicated. Books, on the other hand, are much simpler. Most of us are familiar with how libraries work, and how each book or periodical can be made discoverable by representing it as either a simple card (remember card catalogs?) or as a record in an online catalog. The same is true for many objects in a museum collection, which can also be cataloged in management systems as individual, self-contained items.
By contrast the archival records of an organization or the personal papers of an individual or family may consist of thousands, even millions of items, ranging from something as seemingly insignificant as a matchbook cover or a stray Post-It Note to a letter from home, the minutes of a shareholder's meeting, or the first draft of a screenplay. To follow the library model and catalog these materials on an item level would be enormously time consuming. In addition, when it comes to grasping the full significance of these materials, an itemized inventory of archival records would be simply unhelpful to the researcher. Unlike items in a library or works in a museum, the meanings of archival records largely depend on the context in which they were created -- the activities which produced them -- as well as their relation to other items with which they were originally filed. The significance of these materials tends to be a lot more elusive because, unlike a book or a work of art, they were not created for our benefit but rather to meet the immediate business needs of their creators. Thus to truly be of help, an archival discovery tool needs to do more than simply list what a repository has and where to find it. A good finding aid also needs to explain the context in which the records were created -- the history of the organization and its activities, or the biography of the individual -- as well as their structure and their relationships with other items in the same collection.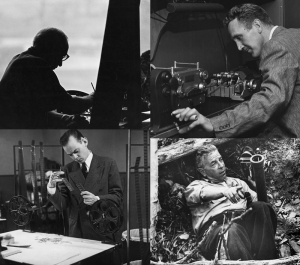 The challenges archivists face in properly capturing all of this information even at a folder level (as opposed to the more granular item level) means that without the time and resources needed to create finding aids many institutions are left with daunting backlogs of unprocessed collections that in effect remain "hidden" from the outside world. In 2014, thanks to a generous grant from the Council on Library and Information Resources (CLIR) specifically designed to uncover such hidden collections, the Moving Image Department of the George Eastman Museum was able to hire a pair of archivists (I being one) to process and therefore "unhide" the personal papers of four important filmmakers whose films are also housed at the Museum: Leo Hurwitz, the maverick film and television director who, though blacklisted, created some of the most vital films of the 1940s, '50s, and '60s; Lothar Wolff, a Weimar-era film publicist who decamped for the U.S. where he edited Time-Life's famous The March of Time newsreel series before becoming a film producer in his own right; Douglass Crockwell, a commercial illustrator in the Norman Rockwell mode who also happened to be an innovative avant-garde animator; and James Reese, a filmmaker and educator who specialized in industrial and ethnographic films shot in the southwest and, later, western New York. With these four finding aids -- now available online to view or download as a PDF or an EAD encoded XML document -- you can now discover these four "hidden" collections in all their complexity for yourself.
You can access all four finding aids now, at eastman.org/finding-aids.
Ken Fox
Project Archivist, Moving Image Department
Photo: Four filmmakers, clockwise from top left- Douglass Crockwell, James Reese, Leo Hurwitz, and Lothar Wolff.