George Eastman is known for his work in revolutionizing photography, but did you know that he also had an interest in preventative dentistry? When he was younger, Eastman watched his mother have eight teeth pulled without anesthesia in their own kitchen. He himself lost teeth early in his life.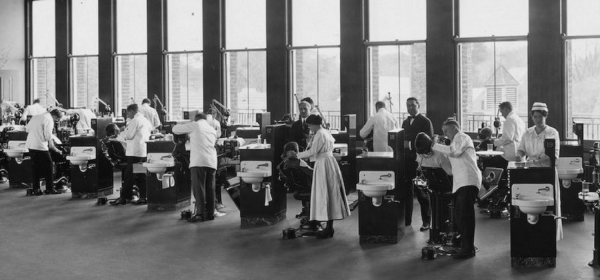 At the turn of the 20th century, Eastman's colleagues, Henry Lomb and William Bausch became actively involved in improving dental healthcare of the city's children.  In 1901, the first free dental clinic was opened in Rochester. However, Eastman believed that there should be a central clinic, and between 1915 and 1917 built the Rochester Dental Dispensary. One of the fascinating aspects of the clinic was that the waiting room was designed specifically with children in mind, and included entertaining decorations.
Beginning today, we will be presenting a small display on the second floor of the mansion dedicated to George Eastman's role in creating the Rochester Dental Dispensary, which turns 100 this year. Check out the exhibition to learn more about the dispensary, see photos of the original clinic, and learn more about Eastman's role in making it successful.    
Want to learn more?
This fall, the Eastman Institute for Oral Health will unveil a bronze plaque that acknowledges Eastman's contributions to the dental health of countless Rochesterians. The dedication ceremony will be free and open to the public. For more information, visit eioh100years.urmc.edu.
On Sunday, September 18 at 1 p.m., Elizabeth Brayer will discuss George Eastman's contributions to the dental health of Rochesterians, in a conversation with Cyril Meyerowitz, DDS, MS, of the School of Medicine and Dentistry, University of Rochester. Book signing to follow. Learn more about the event here.
What happened to the original dispensary?
Curious about what happened to Eastman's original dental dispensary on 800 Main Street? The Rochesteriat recently went behind the scenes and explored the old building to learn what was currently happening. Check out there article online now!