The Dryden Theatre series Haile Gerima: Child of Resistance began on January 28 with the double feature Child of Resistance (1972) and Bush Mama (1975) and continued last week with Harvest: 3000 Years (1976), transitioning markedly from Gerima's L.A. Rebellion period to consider the exploitation of African peasants.
Now gaining increased attention through the work of UCLA Scholars and the recent publication L.A. Rebellion: Creating a New Black Cinema, the influence of the black filmmaker's collective, which began at UCLA in the nineteen seventies, resounds throughout Gerima's career. For its members, a dual political and cinematic resistance was partially inspired by the revelation of Third Cinema, specifically the sixties and seventies political cinema of Cuba and Brazil, which aimed to distance itself in both form and content from the manipulation of mainstream cinema.
Those familiar with the L.A. Rebellion are more likely to recognize the names Charles Burnett (Killer of Sheep) or Billy Woodberry (Bless Their Little Hearts) than Gerima, whose perspective as an Ethiopian-born naturalized African-American, is distinct. Like Burnett and Woodberry, Gerima's premises are commonly domestic, concerning lower-working-class African American families, but his scope is broader, reaching back to colonialism, slavery and over a century of oppression, while also looking forward, functioning as a call-to-arms and often addressing the audience directly.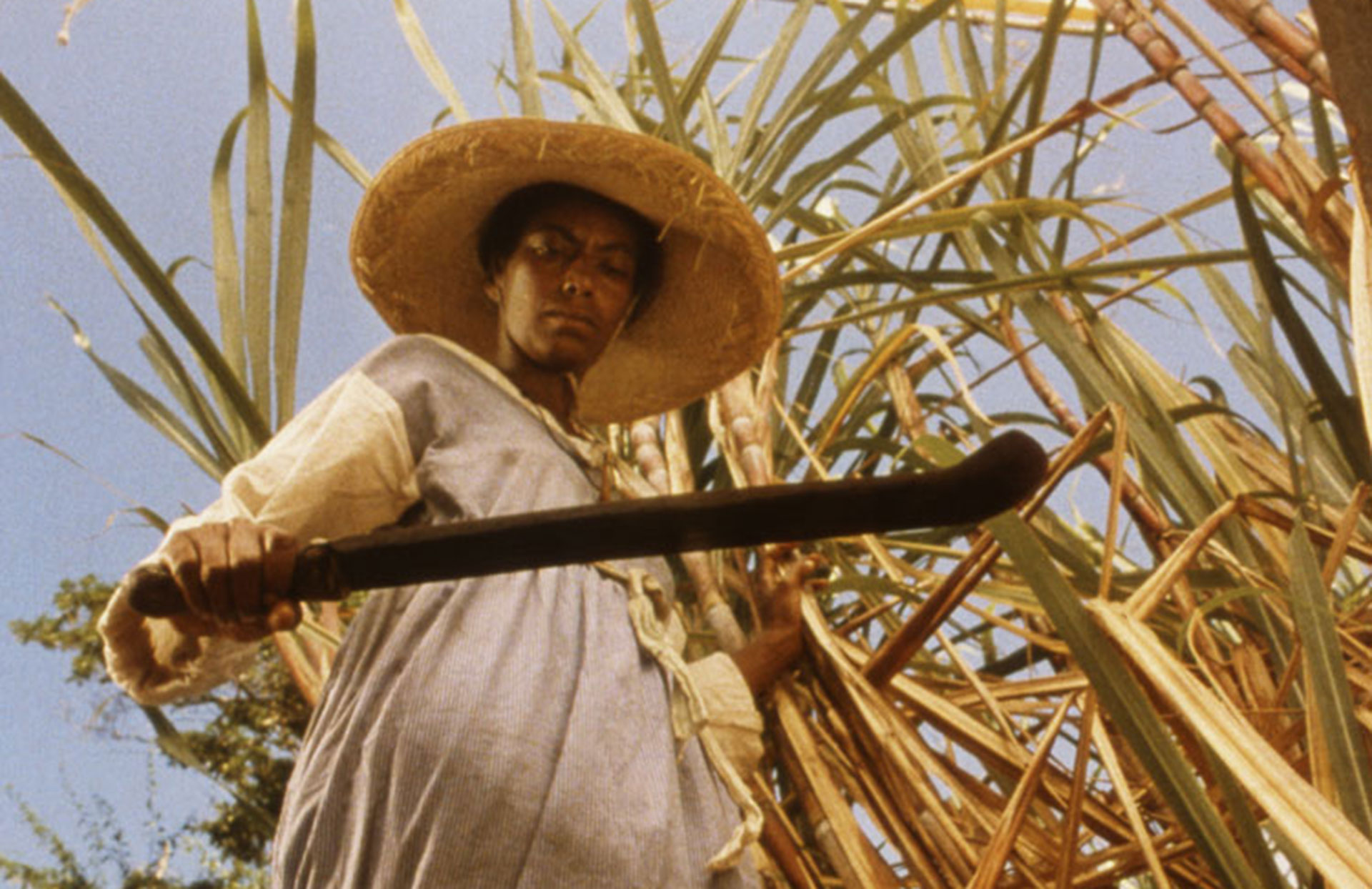 Sankofa (1993)
If by necessity, Gerima has shaped his career in-line with authentic independent cinema ideals, retaining the rights to his own works and, when confronted with difficulties distributing his 1993 film Sankofa (1993), founding a New York theater, a distribution company and the Sankofa bookstore & café in Washington D.C., where he now teaches at Howard University. While it was eventually picked up by Magic Johnson Theatres, an African-American run theater chain that screened the film regularly for an entire year, grossing an astonishing five million dollars in total, Sankofa's release was arduous and fraught with difficulty. After a grassroots publicity campaign in churches, community spaces and rented spaces, Universal Artists Theaters did pick up the film for a three week run, but quickly had it moved to smaller theaters, reducing the number of screenings and gradually closing the run entirely.
This experience was motivating for Gerima, who likened it to ideological censorship at every stage, through financing, producing and distributing. Gerima, who felt that most most black films were "hopelessly bizarre," noted that Hollywood continued "to select and produce films that reflect its own view of what the black community is…" Even after one-hundred years the topic of Sankofa, slavery, was still far too uncomfortable for the industry to accept. Gerima refused to accommodate this discomfort, drawing narrative lines as quickly from incarceration to colonialism and slavery as to the tri-fold oppression of impoverished, black women and to black militancy as a potential solution.
The Sankofa bookstore & café in Washington D.C., where all of the sandwiches are named after African American directors, supports not only the distribution of Gerima's films, but of other African American artists and scholars, as well. In an era when the proliferation of film festivals has transformed an independent film movement into an industry, it's remarkable how little this has benefited African American cinema.
In the Ethiopian language Akan, Sankofa means "one must return to the past in order to move forward." Last December Ava Duvernay's (director, Selma) distribution company Array Releasing, which is "dedicated to the amplification of independent films by people of color and women filmmakers globally," announced it will be rereleasing Gerima's Ashes & Embers. Now in the midst of the Academy Awards diversity crisis, which is identifying a dearth of black perspectives represented in mainstream cinema and has sparked an outcry of support across racial lines, the only way to demonstrate our support for black cinema is to attend films, to prove that African American perspectives are worthy of our time and money. Our hope is that this series can be a part of that conversation.
There remain two films in the series, Ashes & Embers (1982), which screens February 18 and Sankofa (1993), which screens February 25.
We hope to see you there!
Malin Kan,
Dryden Theatre Manager