Last week at the Consumer Electronics Show, Kodak made a huge announcement. Bigger than Super 8, bigger than the Ektra smartphone... They are re-introducing Kodak Professional Ektachrome Color Reversal Film again! The re-released film series will support 135-36x camera formats and be available at the end of 2017. The film stock has a distinctive look and was the choice of many photographers before it was discontinued in 2012. Because it is color positive, it generates a positive image that can be viewed or projected once it is exposed and processed, a benefit that makes it suitable for printing, scanning and projecting. 
In an era where technology is ever-changing and moving forward, some have sought a way to recapture the look and feel of film-based photography. As noted by Kodak in their press released: "Resurgence in the popularity of analog photography has created demand for new and old film products alike. Sales of professional photographic films have been steadily rising over the last few years, with professionals and enthusiasts rediscovering the artistic control offered by manual processes and the creative satisfaction of a physical end product." 
Ektachrome first hit the stores in 1946, where is was used by both professionals and amateurs as a way to get rich colors. In particular, it was heavily used by professionals , like those at National Georgraphic, giving photographs produced from its film an iconic look. Unlike Kodachrome, where is it technically difficult to process the film, Ektachrome can be developed in small professional labs, and the equipment required is afforable. 
This image to the left is the oldest box of Ektachrome from our collection. It has an expiration date of 1957, so it would have been made in the mid-1950s. We also have a great selection of Kodak advertisements for Ektachrome for this period. I suggest checking them out on our Online Collections. 
In 2012, Ektrachrome was discontinued due to a lack of demand by photographers- but that didn't stop many from stocking up on it before it vanished. Now, photographers will be able to replenish their stock with brand new Ektachrome at the end of 2017. 
For more information, check out Kodak's press release and the article by PetaPixel.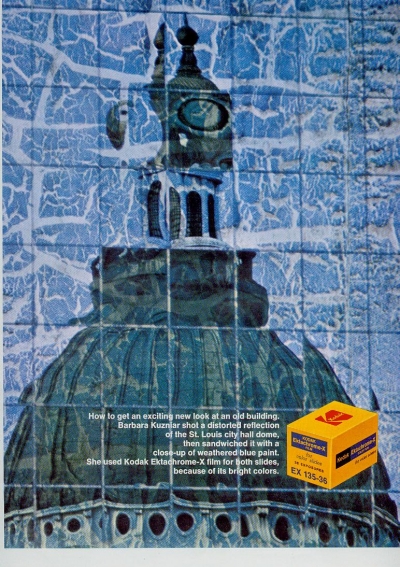 Eastman Kodak Company (American, estab. 1892). Advertisement for Kodak Ektachrome X Film, Jan. 1974. Gift of Eastman Kodak Company. 
Wednesday, January 11, 2017