"The snapshot, not as product but as process. Unpretentious and yet important, aspiring to nothing but a notation in passing. Things as they are, or what we make of them? In attempting to let objects be, objects and object spaces, to form simultaneously a neutral yet actively observational position, to combine 'non-photographs' as photographs. Not one or the other, but all of them together, of many places and spaces—a continuity of impressions."
— Nathan Lyons, 1971
---
No one would dispute that Nathan Lyons has been one of the most important and accomplished people in the photography community for the past six decades. His photographs encouraged us to look deeply at the world around us with an open mind, taking pleasure in the visual conundrums of everyday life. The exhibitions he curated and his associated writings introduced us to the work of other artists who expanded our appreciation of photography's unique power not only to reflect but also to shape our perception of our surroundings, ourselves, and those around us. His impact as an educator at the Visual Studies Workshop is difficult to overestimate; numerous photographers, curators, scholars, photobook makers, and citizens have been inspired and challenged by him.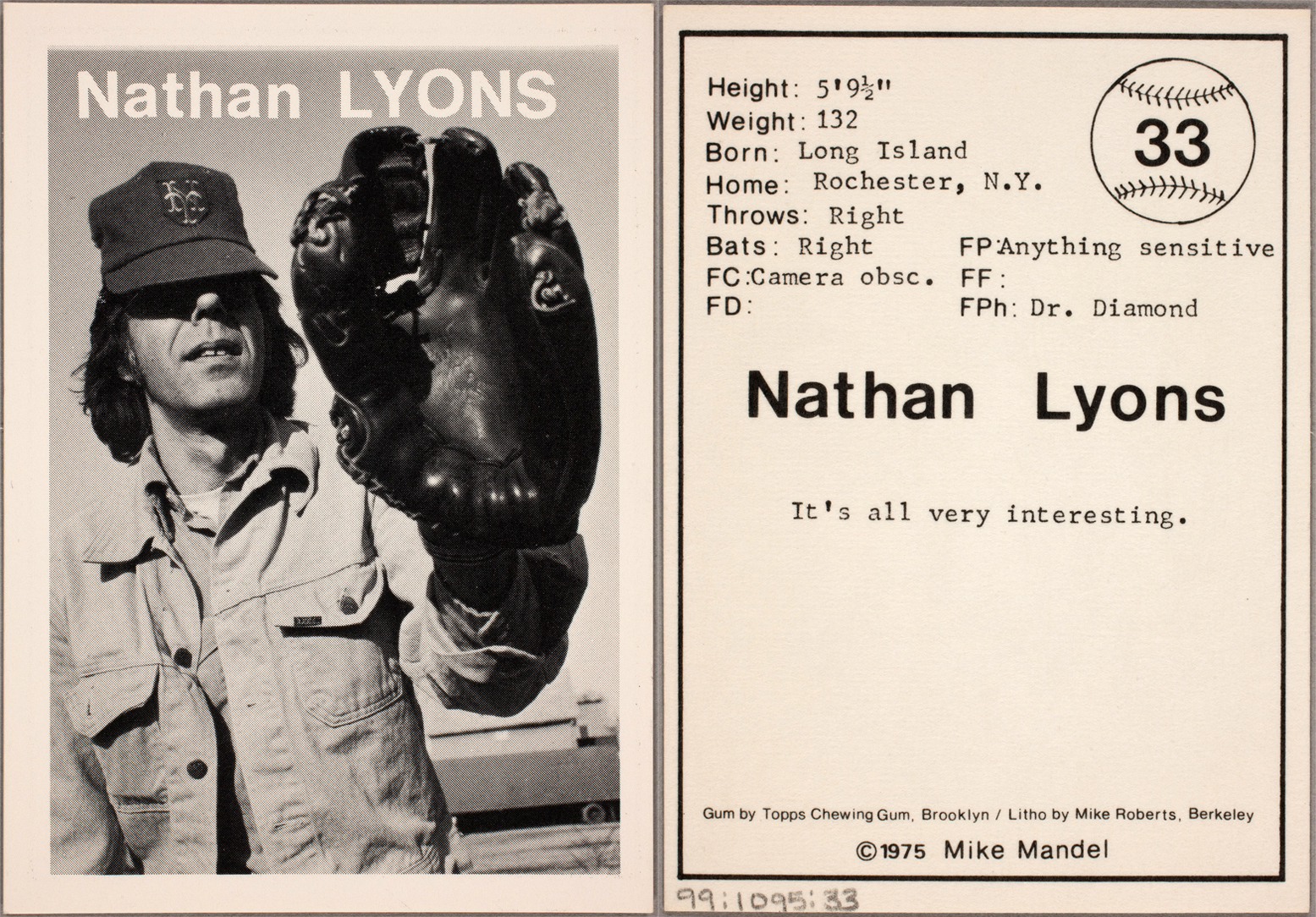 I feel tremendously lucky to have had the privilege to know him personally, if only briefly. Shortly after I arrived in Rochester, he invited me to lunch. I eagerly accepted, despite being acutely aware and rather daunted by the prospect of dining with the man who organized landmark exhibitions such as Toward a Social Landscape and Vision and Expression at the very same institution where I now worked. Nevertheless, I gathered my confidence and went. Of course I discovered that I shouldn't have been so anxious, for I love photography and that was enough common ground for us to enjoy meaningful conversation. And conversation, both visual and verbal, was his true talent. He used it to erode the surface of observational chitchat and expose the moral consequences of seeing. But he did it gently so one almost didn't notice, because he'd rather enlighten than embarrass.
Nathan was a regular presence in the Rochester arts community, where he will be sorely missed. His absence from the global community of artists will be felt equally profoundly. As for those of us in the photography community—which exists in part because of him—we will always feel him there with his camera, noticing everything and sharing its resonance.
Lisa Hostetler, PhD
Curator in Charge, Department of Photography
 
Photo of Nathan Lyons is from a baseball card series created by Mike Mandel of the photographic community, 1975. 
Thursday, September 1, 2016