The presentation of a silent film is generally not complete without a musical accompaniment, whether piano, organ, or orchestra of varying size.  As modes of presentation became more standardized from the aughts to the early teens, demand grew for music that would easily synchronize with the images on screen.  Publishers were quick to recruit composers to meet this demand.  From 1913 through the end of the silent era in 1929, many thousands of compositions were written on both sides of the Atlantic to suit different emotions, moods, and scenes.  Much less common, though not unusual was for films to have a complete composed score, rather than a score compiled of pre-existing pieces.  The George Eastman Museum's Stills Posters and Paper (SPP) collection contains approximately 1,500 to 2,000 individual pieces of  photoplay music and perhaps a dozen or so full scores, most of which belonged to Theodore Huff who was the main accompanist for silent film screenings at the Museum of Modern Art in the 1930s.  As one of this year's students of the L. Jeffrey Selznick School of Film Preservation, I chose cataloging this collection as my personal project due to my love of both music and the silent cinema.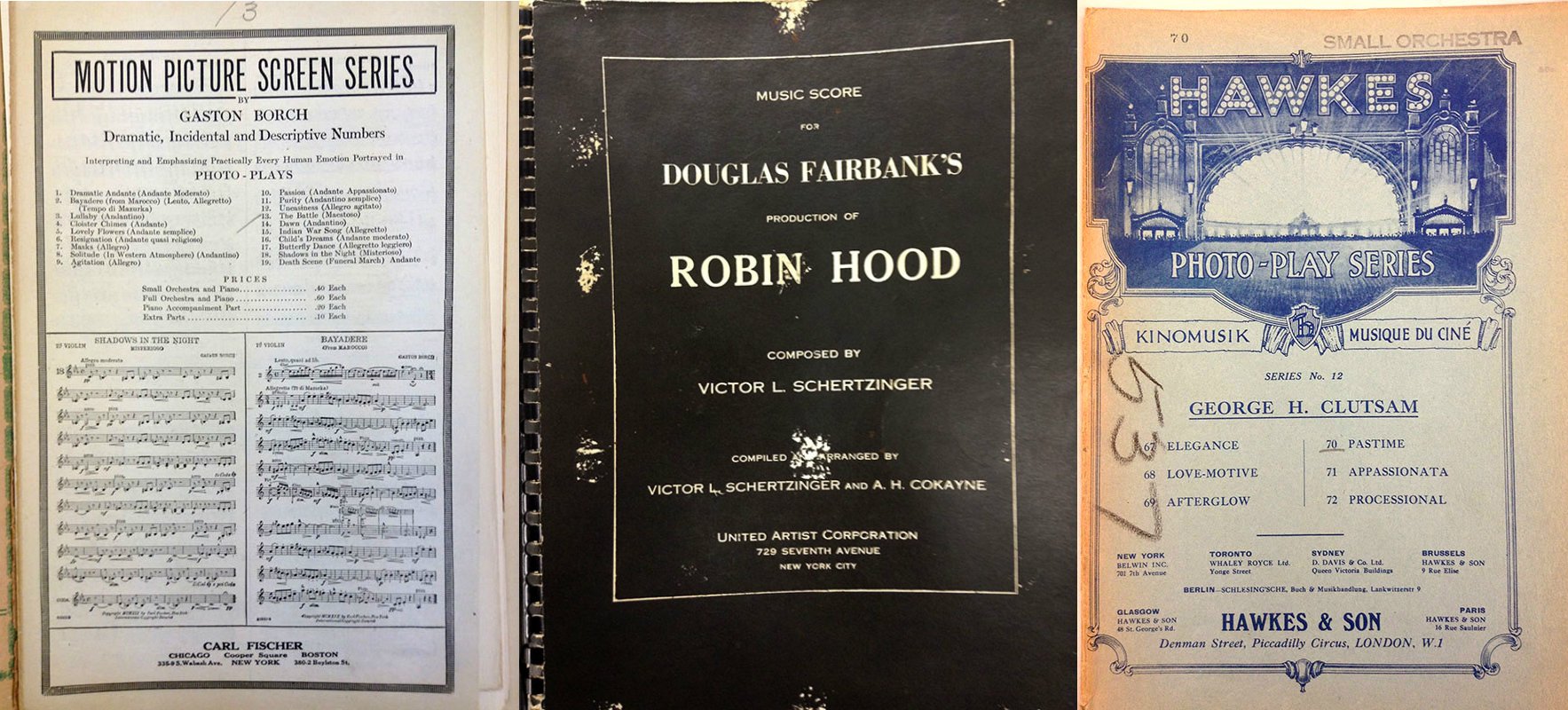 Composer Gaston Borch (French, 1871-1926). Motion Picture Screen Series, 1919. Publisher Carl Fischer. George Eastman Museum.
Composer George Clustam (Australian, b. 1866-1951). Photo Play Series, 1926.  Publisher Hawkes & Son. George Eastman Museum.
Composer Victor Schertzinger (American, b. 1888-1941). Robin Hood, 1922.  Publisher United Artists. George Eastman Museum.  
The collection is contained in about 20 boxes, some of which had been previously sorted, foldered, and alphabetized -- others merely had items stacked flat in random order.  And while some of the pieces had been cataloged for internal use, they had not been fully cataloged in a way that they could be made easily accessible.  My goal is to get the majority of the collection cataloged with a fair amount of subdetail in an excel spreadsheet, and to use this spreadsheet to make more simplified finding aids arranged by title, composer, mood, and other pertinent data, particularly for use by those compiling scores for new presentations of silent films.  There are long term plans to scan the collection to be made available online, and link the individual pieces of photoplay music with the museum's collection of movie cue sheets.
Aside from the pieces practical use in the historically minded scoring of silent films, the inherent value of the music on its own is worthy of re-assessment.  The early composers for the burgeoning medium of film music were not 2nd rate hacks.  Two of the most prolific composers of photoplay music working in the United States, J. S. Zamecnik and Gaston Borch, trained in Europe under the renown composers Antonin Dvorák and Jules Massenet respectively.  Both are well represented in our collection, but we also have works by nearly 150 other composers, including photoplay pieces by the famous British light music composer Albert Ketèlbey, Italian-born German composer Giuseppe Becce (who scored the Berlin premiere of The Cabinet of Dr. Caligari (1919), and Gottfried Huppertz (who scored Fritz Lang's Die Niebelungen (1924) and Metropolis (1927)).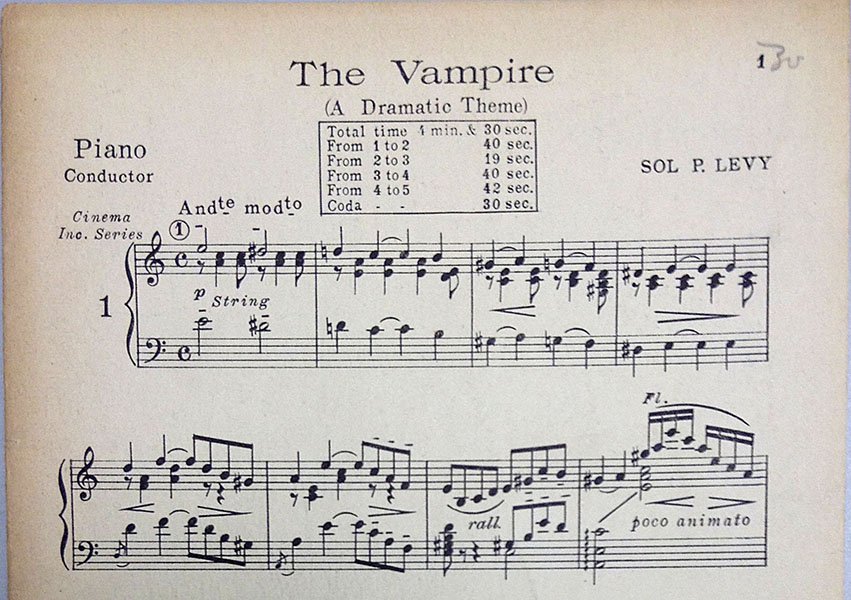 Sol P. Levy (American, b. 1881-1920). The Vampire, 1917. Publisher Cinema Music Co. George Eastman Museum. 
For further reading on the subject, and some listening samples, a great place to start is the website for the Mont Alto Orchestra led by Rodney Sauer, one of the foremost of a growing number of modern groups for accompanying silent films.
---
Jesse Pierce is a pursuing Master of Arts degree in Film and Media Preservation through the L. Jeffrey Selznick School and the University of Rochester.  He currently holds a BS in Psychology from Virginia Commonwealth University, has studied film history independently since high school, organized monthly silent film screenings at his local library in Charlottesville, VA for two years, and has interned at the Library of Congress Packard Campus for Audio-Visual Conservation.