For the past twenty-one years, the international photography community has gathered in November for Paris Photo, a photography fair featuring dealers' booths, curated displays, artist talks, and photobooks. 
It takes place in the Grand Palais, a historic building with a vast metal-and-glass skylight that sets a beautiful tone for exploring the fair.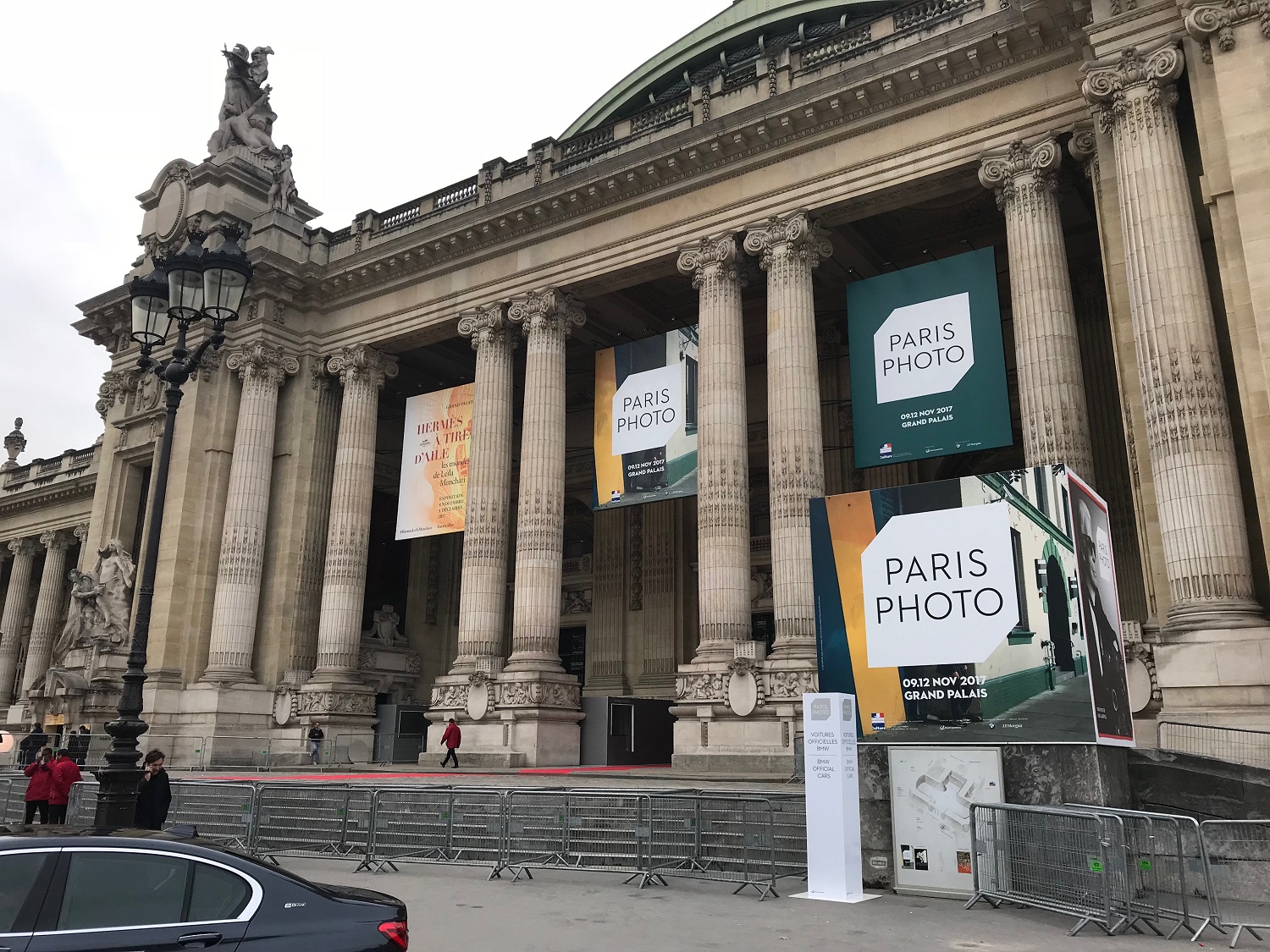 The range of galleries is quite broad, from established to up-and-coming, presenting a wide variety of vintage and contemporary photographs. The emphasis is on art, but there are a few dealers who specialize in vernacular material or other genres of photography, particularly fashion and documentary/photojournalism.
Since I am no longer living in a major city, for me one of the most vital aspects of the fair is the chance to discover the work of artists from all over the world in the early stages of their career. Often galleries located abroad that represent early-career artists cannot afford the substantial expense of participating in art and photography fairs held in the United States, due to the combined costs of renting a booth, shipping the works, international travel, lodging, and staffing both their gallery and their booth at the fair. For a number of such businesses located in Europe, Africa, or Asia, getting to Paris is more feasible. The result is the opportunity to encounter work that I would never see unless and until the artist is a big international star. Finding out about an artist early provides a greater context for evaluation, as well as the pleasure of following the person's creative trajectory as their career develops.

The fair is a great place to see not only photographs but also photobooks and photography-related publications. A special section of the fair is devoted to booksellers specializing in rare photobooks like first editions of Henri Cartier-Bresson's The Decisive Moment (1952) and Robert Frank's The Americans (1959), as well as to publishers of contemporary artist's books and trade publishers like Steidl and Aperture. In addition, each year Paris Photo and Aperture co-sponsor the Photobook Awards, and the winners are announced during the fair on Friday. There are three categories, and this year's winners were for Photography Catalogue of the Year: Mattie Boom and Hans Rooseboom, New Realities: Photography in the 19th Century (Rijiksmuseum/Nai, Amsterdam, 2017); for Photobook of the Year: Dayanita Singh, Museum Bhavan (Steidl, Göttingen, Germany, 2017); and for First Photobook: Mathieu Asselin, Monsanto: A Photographic Investigation (Verlag Kettler/Acte Sud, Dortmund, Germany, 2017).
One of my favorite things about the fair is the chance to see colleagues, collectors, and dealers from far-flung locations in the same place at the same time. Many of these people are personal friends, and there is no better place than Paris to catch up over lunch, dinner, or drinks. My French is rusty, but I am never the only one in a group with that problem, and somehow we always get our point across if we need to communicate with a non-English-speaking Parisian (though most everyone speaks English).
Paris Photo has become such an event that the city celebrates it with "Le Mois de la Photographie," for which many Parisian museums mount photography exhibitions. This year my favorites were the Albert Renger-Patzsch show at the Jeu de Paume and Paysages Français at the Bibliothèque nationale de France. Even the Louvre projects photographic images on its famous I. M. Pei- designed glass pyramid!
In short, Paris Photo is a visually exhilarating and intellectually stimulating experience, and although I'm always exhausted when I return to the office, I hope it continues its annual appearance forever. I've come to depend on it to provoke ideas and foster new personal and institutional relationships.
The George Eastman Museum hopes to organize a patrons' trip to the fair within the next few years, so if you're interested, please stay in touch so we can update you when plans solidify. 
Want to experience Paris Photo 2017 for yourself? Check out their 360 tour of the exhibition space. 
Wednesday, November 29, 2017