My name is Nita Genova and, for reasons even I can't fully explain, I LOVE BOLLYWOOD! I am on a quest to explore movies of India and I hope you will join me.
I enjoyed Om Shanti Om (OSO) the first time I saw it about eight or nine years ago as a new release on DVD. The story had all the right twists, the vibrant colors, stunningly gorgeous heroine, nasty (but handsome) villain, and most importantly, my favorite actor, Shah Rukh Khan (a.k.a. SRK) as Om "Omi" Prakash Makhija (in the 1970s) & Om Kapoor "OK" (in the 2000s). But I was too new to Bollywood movies then to really appreciate the nuances in this movie: the iconic actors' cameos; the references to Bollywood films; or the improbability of getting so many members of Bollywood royalty together in one film! This movie is truly amazing, and even more so when you are aware of all the details.
Om Shanti Om is an unapologetic tribute to the 70s movies that co-writer, director, and choreographer Farah Khan grew up watching. She scripted the idea for OSO in 2002 while working as a choreographer on Andrew Lloyd Webber's Bombay Dreamz. In April 2004, she made her directorial debut with Main Hoon Na (Translation: Trust Me, I Am Here). With one movie as director behind her, Farah found the forgotten OSO story lying in a drawer in 2005, and it was reborn.
Every scene in OSO is a fond memory of a star of yesteryear. Great attention has been paid to creating every detail––from the clothing, to the songs, to the re-created 70s film scenes, to the iconic mannerisms of the popular stars. And this is not a spoof of 70s movies. Farah Khan was adamant, for example, that if any of costumes were deemed "funny", they were scrapped. That doesn't mean there isn't humor in this movie. Farah also did not want to make a movie about the "grime" of the movie industry. Her purpose was to recreate the fun of that time––the excitement a person felt when watching a movie and imagining what it would be like to be those stars.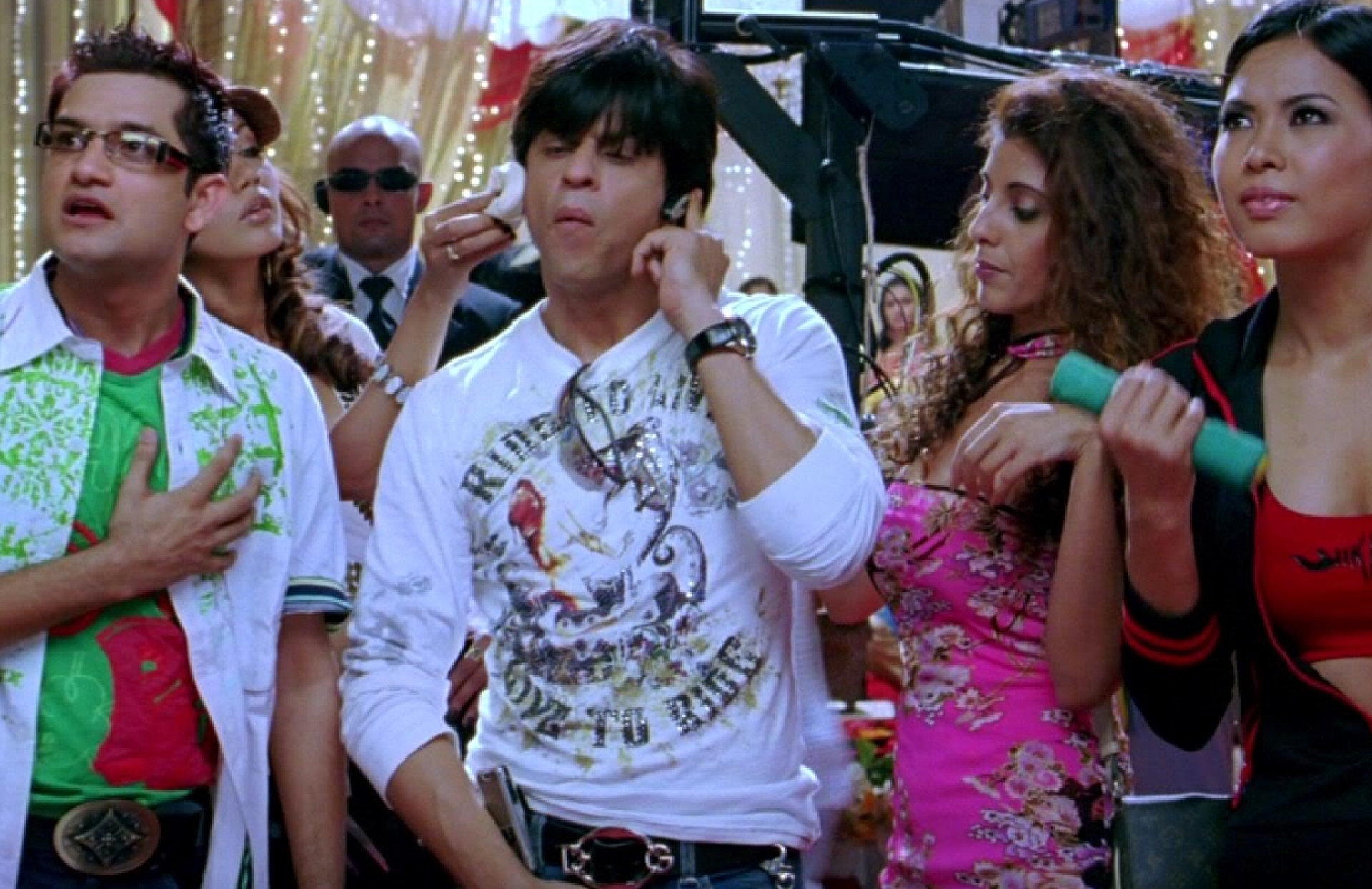 The first scene of the film is a throwback to the film Karz (In-Debt,1980), also a film about reincarnation. Rishi Kapoor is singing while on a giant revolving LP. In this scene, SRK and Farah Khan are junior artistes. The real movie is merged into the reel (OSO) movie. Female Junior Artiste (Farah) tells Junior Artiste Om (SRK) to stop overacting, and Om replies "What's it to you? It's not like you are the director!" And the tone is set!
Reincarnation is an important aspect to this movie for Farah Khan. Previously, reincarnation movies didn't do an authentic differentiation between the looks of the first life and the reincarnated life. By choosing a 70s era with such distinct stars and fashions, the scenes of the future life in 2000 could be easily distinguished from the past life.
What was the only way a junior artiste could be reincarnated as a famous movie star? To be born to a successful "filmi" family! So, Om is reborn into the Kapoor family–– based on a real movie dynasty of five generations of actors going back to the 20s. Nepotism is always a criticism surrounding Bollywood movies. In fact, Gauri Khan, SRK's wife, is the producer of this film. His Red Chilies FX company, a division of his Red Chillies Entertainment, does the special effects. Farah Khan's husband since 2004, Shirish Kunder, is the editor.
Starring as the heroine, this film is Deepika Pudukone's debut. She is a model, and was 21 at the time, and according to Farah didn't look too young to play opposite SRK, who was 40. To give credibility to her Shantipriya, megastar "Dreamy Girl" image, the song, Dhoom Taana, was created. Famous Bollywood scenes were scanned and Deepika (who is an excellent dancer) had to mirror step-for-step the original dance often with a male dancer outfitted in a tight spandex green sheath. She was then "dropped" into the scene, replacing the real heroine so that she "really" is dancing with iconic stars of yesteryear Rajesh Khanna, Sunil Dutt & Jeetendra. It took seven days of shooting and 45 shots for each replacement. When Deepika's character is auditioning in the 2000s as Sandy, the scene where she is late and chewing bubble gum is right out of The Fabulous Baker Boys and Michelle Pfeifer's audition in the movie. Deepika is now an international superstar and she recently made her Hollywood debut in Vin Diesel's xXx: Return of Xander Cage.
Farah was true to her word about making a happy movie, and even the behind-the-scenes, never-seen faces were showcased at the very end of the film. All arrive in star-style and have their 10 seconds of on-screen fame. Except for Farah––she arrives in a rickshaw with no one to greet her!
I hope you enjoyed this look at Om Shanti Om, and that you may be inspired to become a Indian Cinema fan if you aren't already!
Nita Genova
Good Golly! It's Bolly! Course Leader
Osher Lifelong Learning Institute at RIT & Program Chair, Women's Council of RIT
Om Shanti Om Fun Facts
Model turned actor Arjun Rampal had to be convinced by Farah Khan and SRK into playing the role of the villain, since the character has no redeeming qualities.
The fire scene is a reference to Mother India (1957). While filming this, the actress was caught in a fire and was rescued by another actor. The two married in real life, and their son, a now famous Bollywood actor, has a cameo in the "Deewangi Deewangi" number.
During three of the fire scenes, SRK is actually on fire. In addition to being the star, he owns the special effects company that worked on the film. What better way to show off the skills of your company than by safely setting yourself on fire.
"Deewangi Deewangi" is the main number of the entire film, and features 31 cameos of famous Bollywood stars, an amazing feat in filmmaking. One to two cameos were filmed over the course of five days, leading to some continuity issues throughout the number.
The Filmfare Awards scene is full of insider jokes, including Rakesh Roshan saying his son is going to win for best actor, the jab about everyone being "just good friends", the reference to the Dhoom series, and the director and star of the film Karz fighting over the envelope at the award ceremony.
The "Item Number" is a scene often in Bollywood films where the female lead does a sexual dance often unrelated to the plot. In a twist on that, Farah Khan had SRK do the "Item Number", and worked out for three months to change his body for the scene. You can see the difference in his physique from other scenes in the movie.
Learn More
The Film Companion. "10 Years of Om Shanti Om | Farah Khan Interview with Anupama Chopra." YouTube, The Film Companion, 8 Nov. 2017, www.youtube.com/watch?v=Xz_ewc7DVao.
filmigaane. "Yeh Mera Dil - Helen - Amitabh Bachchan - Don - Bollywood SuperHit Item Songs [HD] - Asha Bhosle." YouTube, Filmigaane, 24 Nov. 2010, www.youtube.com/watch?v=ahf1OL6rFdk.
johselyn1893. "Om Shanti Om - Escena De Los Filmfare Awards." johselyn1893, YouTube, 22 Oct. 2011, www.youtube.com/watch?v=q06-CzrtnzM.
KingKhanHD. "Dard-E-Disco (English Subtitles) - Om Shanti Om - HD." YouTube, King Khan HD, 17 June 2010, www.youtube.com/watch?v=ZrQA-w8s-uc.
KingKhanHD. "Deewangi (English Subtitles) - Om Shanti Om - 1080p HD." YouTube, King Khan HD, 2 June 2010, www.youtube.com/watch?v=-UNhUhTgC9Q.
Open Contributors. "Om Shanti Om." Wikipedia, Wikimedia Foundation, 7 Dec. 2017, en.wikipedia.org/wiki/Om_Shanti_Om.
Shiekh, Mushtaq. The Making of Om Shanti Om. Om Books International, 2008.
Wright, Neelam Sidhar. Bollywood and Postmodernism: Popular Indian Cinema in the 21st Century. Edinburgh University Press, 2017.
Tuesday, January 16, 2018