The George Eastman Museum invited a group of six RIT students from Professor Angela Kelly's Photography Arts II course to tour the exhibition Robert Cumming: The Secret Life of Objects and make their own photographs inspired by the artist's prolific career. The students connected with the witty nature of Cumming's work, creating their own take on his use of illusion and the constructed image. We are excited to share their images and words about how they drew inspiration.
Savannah Cid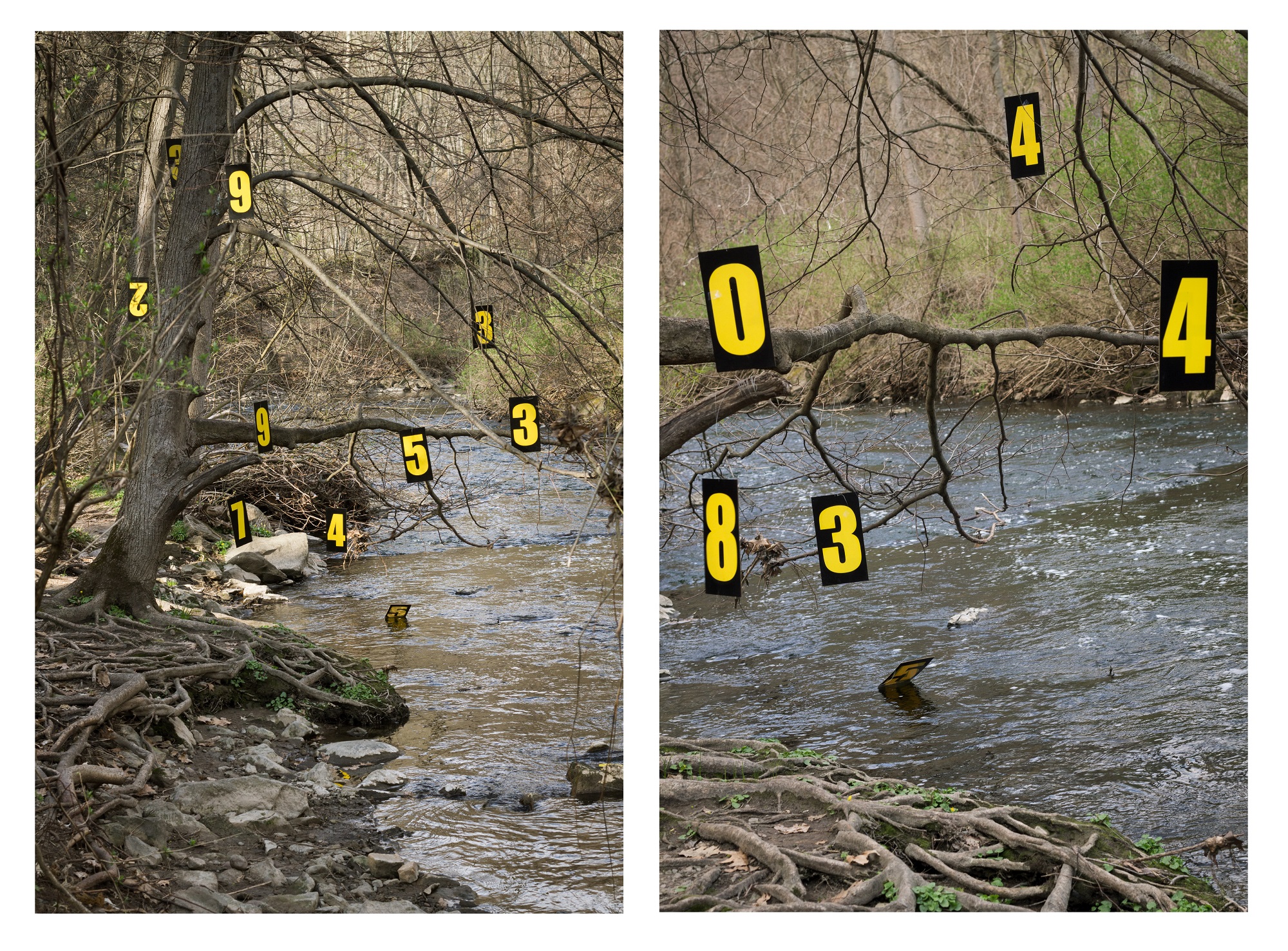 As I was looking into the life of Robert Cumming, I had come to see the absurdity and visual deception throughout the development of his work. Over time, it seemed to have transitioned from self-contrived and manipulated stills, to the exploration of absurdity in the real world. Inspired by the idea of the difficulties of nonsense, and the falsification of what is real, I wanted to create a conflicting, odd moment in real time. In order to do so I threaded thin wire through old gas station numbers and carefully placed them in nature.
Svea Elisha

This project draws inspiration from the Cummings series in which he photographed a rocking chair and two stools then displayed the Big Dipper constellation on the images. My response project takes into account his fascination with architecture by focusing on large structures. Instead of the Big Dipper, the Orion constellation is used. The stars are placed on points of tension within the photograph such as a corner in the brick wall, the intersection of a branch, or the top of spires on a church. The images were captured with a Leica M4-2 on black and white film; coincidently, the Orion nebula is otherwise known as M42.
Evan Maloney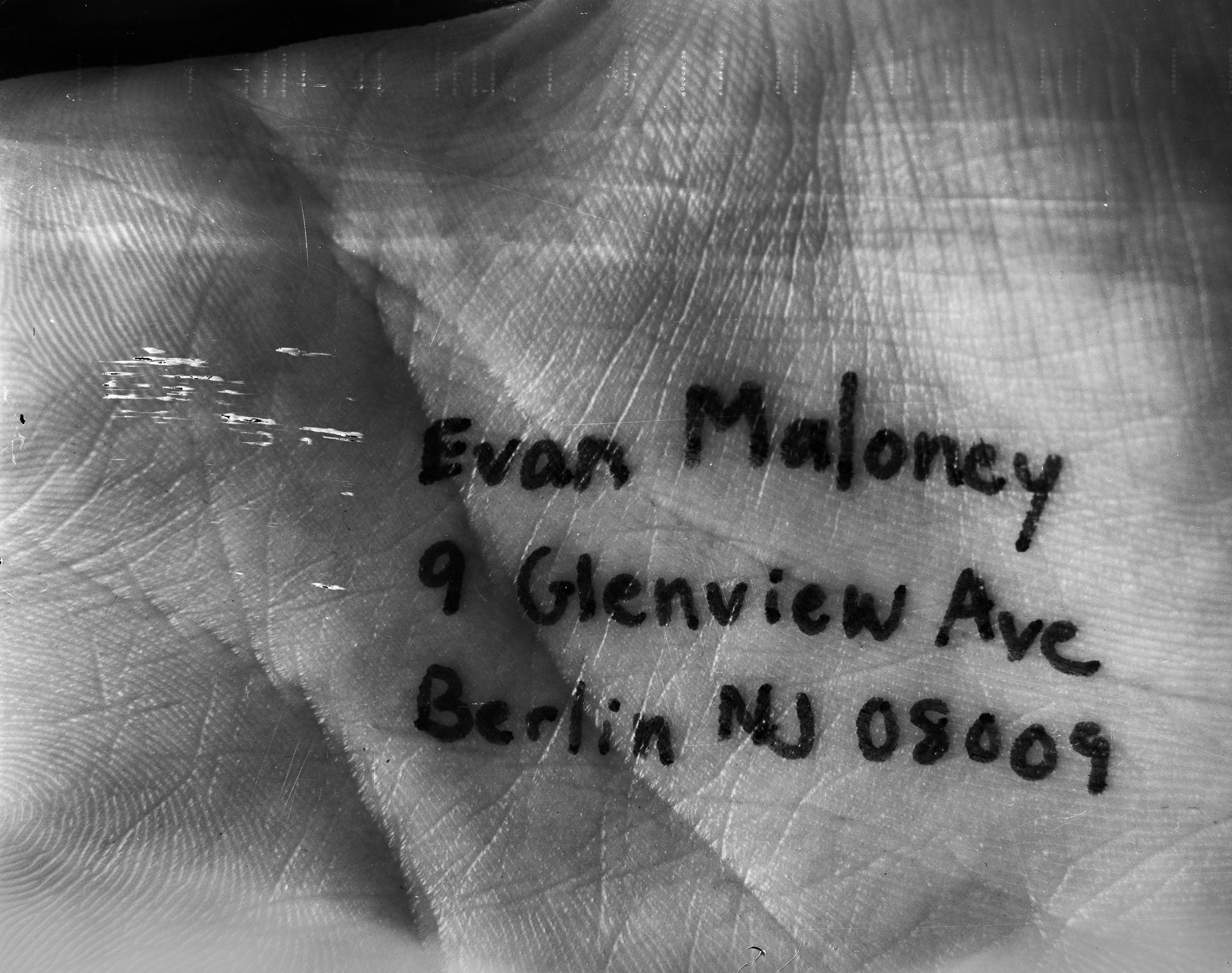 When looking at Robert Cumming's work for the first time at the George Eastman Museum, what really struck me was his use of wit and humor through images. He is simultaneously able to create a rather beautiful composition and also play a small joke, whether on the viewer or alongside them. I wanted to try and recreate this type of photographic humor myself. My final piece is entitled Hand Delivered. I made a photograph of my own address written on my hand. I used a 4x5 view camera and black and white film, a medium Cumming uses often. I then sent the negative to my home without an envelope, looking to show the wear and tear of the mail system through scratches and imperfections on the negative. This aspect refers to Cumming's mail art, which relies on chance and trust of the mail service. I received the negative back in the mail and then scanned it to produce my final image. The artifacts of the negative's journey through the post are subtle but noticeable, especially the evenly spaced marking lines near the top. Though my wit here might be a little more blunt than Cumming's ever was, this project was a way for me to take everything a love about his work and make something of my own.
Evan McClellan

For this response piece, I have submitted 3 pictures. The first two, labeled Mirapinna Esau, go together as a response towards his fish bowl photograph. I recreated the photograph but used my man bun, from last year, for the fish. For the third image, labeled Why Won't My Flowers Grow Back, I put dead flowers in my toilet reservoir to instill a more ironic humor. I combined the three pictures into a series.
James Porras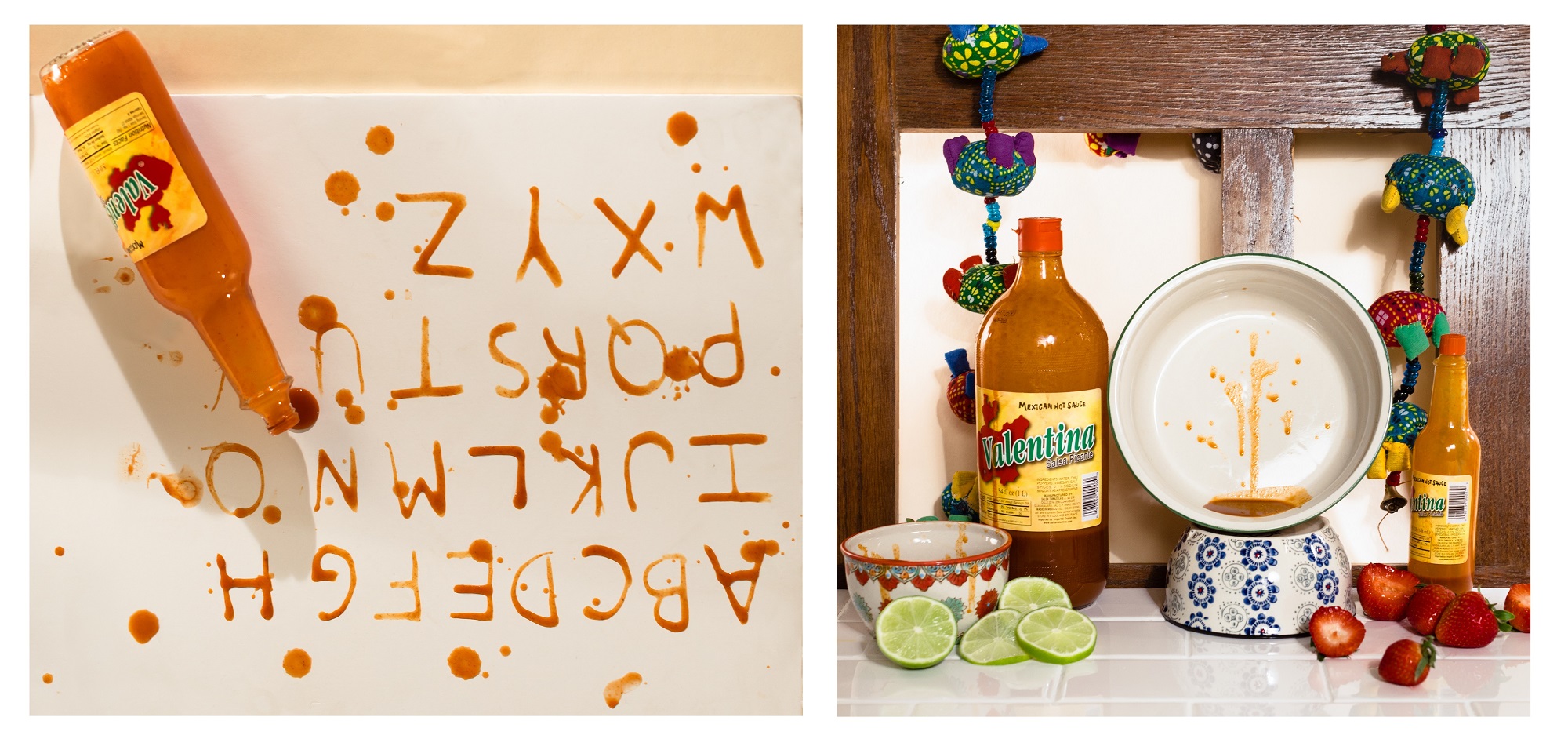 When I was offered the opportunity to create a piece of work that would relate or compliment him Robert Cumming, I knew from the beginning what my concept would include. After viewing his exhibition at the George Eastman Museum, I chose to create two pieces that Robert Cummings might have composed, but I did my own twist on it. I created a connection to my heritage using hot sauce that I bought in Mexico, and made two still lifes. This piece to me allowed me to create a connection with the photographer while also providing a different perspective of the world through the eyes of a Mexican in America.
Tia Weiss

To emulate the style of Robert Cumming, I chose to construct a scene out of everyday objects that is both humorous and intriguing. Many of Cumming's pieces were studies into the odd "lives" of everyday objects and often involved an elaborate set which Cumming would include in his final photographs. I chose to focus my investigation on the "secret lives of fruit." To do this, I created a set using a single continuous light and other common pieces of photography studio equipment. This haphazard collection of studio equipment creates a visual narrative that Cumming himself described as "a means by which one can unravel the fabrication." The inspiration for the style of photograph I chose to create came from Cumming's Mishap of Minor Consequence created in 1973. This photo featured a chair and bucket in the action of tipping over, however Cumming includes his entire set to reveal the strings that the chair and bucket were attached to and the lights used to light the scene. This humorous and ironic approach to image making, in my opinion, is the best quality.