Challenge Two: Closeup
Entry Period: July 11-18, 2016
Hashtag: #GEMcloseup
Challenge: For our second Sight Reading Instagram Challenge, we want you to get up close and personal with your subject. The beauty of the closeup, is that despite not showing the whole object, we can still understand what it means. Sometimes, we gain more meaning by seeing objects with such close attention to detail. This week, we challenge you to take photos that show closeups of objects, people, or other subjects that may retain or change in meaning. Be creative! 
For rules and more on the challenges, visit our introductory post from the first week.
This photo by Loewy & Puiseux shows a closeup of the moon's surface. Despite not seeing the entire obejct, we still can understand what it is, and it gives us an alternative perspective on the subject.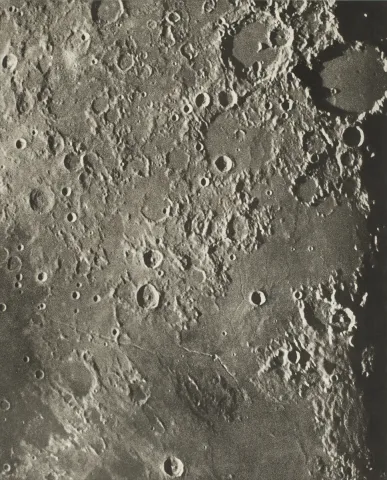 Loewy & Puiseux (French, active ca. 1890–1907). Photographie Lunaire Albategnis, Triesnecker, Manilius, March 6, 1903. Photogravure. George Eastman Museum, purchased with funds from Harvey S. Shipley Miller and J. Randall Plummer. 
---
Congratulations to our Sight Reading Challenge One Winner: Dan Larkin with "Free Sinks"
Thank you to everyone who submitted their photographs, and good luck next week! To see all the entries, check out #GEMText on Instagram!