Director's Note: A Few Moments With Eastman House Director Bruce Barnes
Bruce Barnes joined George Eastman House as the Ron and Donna Fielding Director in October 2012.
Before coming to Eastman House, Barnes was president and founder of American Decorative Art 1900 Foundation (ADA1900), based in New York, which works in collaboration with museums across the United States. He is co-author and editor of The Jewelry and Metalwork of Marie Zimmermann (2011), published by ADA1900 and Yale University Press. Barnes received a B.A. and Ph.D. in Economics from the University of Pennsylvania.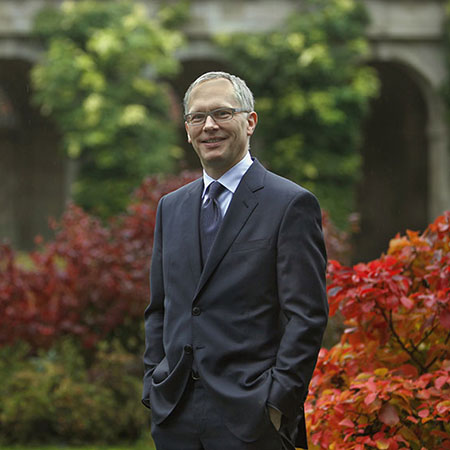 He previously held senior executive positions at Ziff Communications Company, Ziff Brothers Investments, and Wasserstein Perella & Co., among others. This is not his first time working in Rochester. From 2000 to 2004, he was chief executive officer of Rochester-based Element K, a pioneer in online learning.
Barnes is pleased to return to Rochester at the helm of what he considers to be an institution of national importance. The recent months have seen him meeting with staff, donors, and friends of the Museum—not just getting his feet wet, but jumping right into guiding the Museum in its most critical endeavors.
Films & Events asked Barnes to share some of his insights about the Museum and what its members and visitors have to look forward to.
Films & Events: Why did you decide you wanted to work at Eastman House?
Barnes: I have spent much of the last seven years collaborating with art museums to foster the appreciation and understanding of American decorative art. I found such collaborative ventures deeply satisfying. Eastman House has tremendous opportunities to make a greater contribution by expanding our cooperation with other institutions, making our collections available to a much larger audience. The potential impact of making our collections accessible online is awesome.
F&E: You spent time during the interview process learning as much as you could about the Museum. What did you find particularly remarkable?
BB: For me, the most extraordinary things about the Museum are its world-class collections in photography, motion pictures, and photographic and cinematic technology, as well as its library. Eastman House is unique in its coverage of the full history and range of photography and moving pictures. On a more personal level, I have been a movie buff since childhood, so I was delighted by the films at the Dryden. I am a passionate collector of American decorative art from the period around 1900, precisely when George Eastman designed and built his magnificent home. As an economist and businessperson, I understand the importance of George Eastman's contributions as an inventor, industrialist, and philanthropist.
F&E: What have been your early impressions since coming to the Museum?
BB: For any "outsider" who takes a leadership position, one of the biggest unknowns is the staff. (Prior to taking the position, I had the opportunity to meet only two members of the staff, both senior professionals on the search committee that was interviewing me.) I have been impressed by the talent and commitment of the museum's staff. Moreover, I have greatly appreciated that the museum's employees and supporters, and other people in the Rochester community, have made me feel so welcome.
F&E: One of your early areas of focus is the museum's exhibitions program. Can you give our members a sense of what they have to look forward to?
BB: Frankly, as a result of resource limitations, Eastman House has been under-investing in its exhibitions staff and programming. The first organizational change we implemented is the reformation of an Exhibitions Committee and the creation of full-time positions for the Manager of Exhibitions and the Manager of Traveling Exhibitions—both functions have been placed within our Department of Communications and Engagement.
One of the critical limitations of our exhibitions program has been the lack of the long-term pipeline of future exhibitions that is essential to sound planning and collaboration with other institutions. The top priority of our Exhibitions Committee is to work with the museum's curatorial staff to develop a compelling multi-year schedule of planned exhibitions.
I am excited that this summer we will present an expansive exhibition exploring representations of the sexes in photographs. The Gender Show will be an engaging, and at times amusing, survey of how photographs have portrayed women and men—and boys and girls—in gender roles ranging from archetypal to non-traditional to unconventional. These images offer a rich opportunity to examine the visual cues we use to define gender and the stereotypes that can affect our perceptions. The exhibition will also include photographs and videos by contemporary artists who have been particularly focused on gender issues.
F&E: Eastman House is strongly rooted in the Rochester community but also is a leader in the international photography and motion picture communities. How do you see those two missions interacting in the coming years?
BB: We must pursue three critical missions: preserving our precious collections, serving the Rochester community, and being a leader among museums in the fields of photography and motion pictures. Many of the exhibitions we develop for our own galleries travel to other venues. Some of the major exhibitions we will develop in collaboration with other museums will be modified to fit within our more limited gallery space. Several leaders of Rochester's business, educational, and cultural organizations have emphasized to me how Eastman House's leadership position and international reputation contribute to Rochester.
F&E: What aspects of directing the staff and programs at Eastman House will you find the most rewarding?
BB: What I find most satisfying is helping institutions and individuals reach their potential. Among a leader's essential roles are formulating an overall strategy, developing key relationships, setting priorities, team building, and enabling team members to succeed in their roles. One of the most important contributions that I can make is problem-solving, helping to remove obstacles that can impede our people's success.
I do know that I will be glowing every time I see an Eastman House exhibition at another leading art museum. When we accomplish our objective of making our breathtaking collection of photographs accessible online, I will be walking on air.
From the January/February 2013 Films & Events