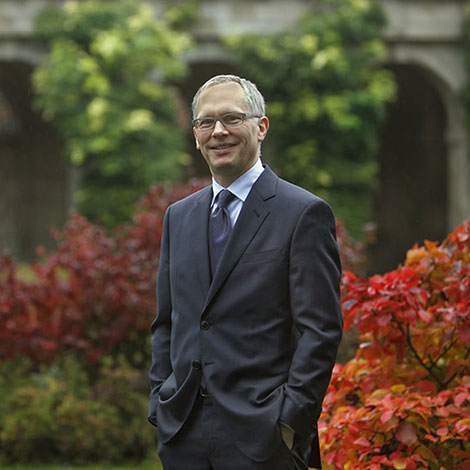 Director's Welcome
---
The George Eastman Museum is an international treasure. Our collections of photography and cinema are among the best in the world. Our collection of cameras and related technology is matched by none. The museum—founded more than seventy years ago as George Eastman House—is located in Rochester, New York, on the National Historic Landmark estate of entrepreneur and philanthropist George Eastman, the pioneer of popular photography and a leader in the development of motion picture film.
The Eastman Museum is actively building our collections, with an emphasis on photographic and moving image works by contemporary artists from many cultures to complement our great strength in works from the past. We are committed to the preservation of our collections and of George Eastman's mansion and gardens. Over a period of several years, we have been undertaking a series of projects to restore parts of the mansion.
One of the most exciting aspects of the Eastman Museum is our dynamic and wide-ranging exhibition program. Each year, we present at least seven new exhibitions: major shows in our main galleries, spanning the entire histories of photography and cinema; contemporary photographic or moving image artworks in our Project Gallery; selections from our collection in our History of Photography Gallery; and exhibits about photographic technology or George Eastman, in the historic mansion. If you have not visited the museum in six months, you are guaranteed to see several new exhibitions on your next visit.
The Dryden Theatre exhibits at least five different motion pictures each week—often films that cannot be seen anywhere else—ranging from silents with live musical accompaniment, classic Hollywood pictures, and past blockbusters to rarely shown independent, foreign, or experimental films. We also host special appearances from actors, filmmakers, photographers, and other artists, as well as talks by curators and scholars. There is something to engage or entertain every taste.
The historic mansion and gardens offer a variety of delights throughout the year. Join us for a live musical performance in the mansion any Sunday afternoon. Stroll through the gardens and enjoy the change of seasons. Celebrate the holiday season with our Sweet Creations gingerbread houses, escape from winter with our Dutch Connection flower show in February, and in May, marvel at the creatively themed tabletop displays and lush floral arrangements of Eastman Entertains.
The George Eastman Museum is an extraordinary institution. Our staff and trustees are deeply grateful to our members and other donors who support our mission. We hope that you will join us and explore all the museum has to offer. We invite you to come back—again and again—and see what's new.
Sincerely,



Bruce Barnes, PhD
Ron and Donna Fielding Director
George Eastman Museum
Director's Notes
---
2023+
2022+
2021+
2020+
2019+
2018+
2017+
2016+
2015+
2014+
2013+
2012+