THE MUSEUM IS CLOSED THROUGH JANUARY 30 TO ACCOMMODATE CONSTRUCTION.
The museum will reopen on the night of January 30 for the Exhibition Opening Party for Bea Nettles: Harvest of Memory.
The George Eastman Museum is undertaking a major construction project to relocate and redesign the main entrance. Thank you for your patience while we make these improvements.
Note: All study centers are open to the public throughout closures. Please contact the study center of interest to make an appointment.
For Visitors to the Museum through January 31–February 13
To accommodate construction and restoration, the historic mansion will be closed.
During this period, admission will be discounted; please see rates below.
Accessible parking is available by the Strong Vaults via the University Ave entrance; there is currently no through traffic from the East Ave to the University Ave. entrance.
The Dryden Theatre is closed through June 3 and will reopen with The 6th Nitrate Picture Show, June 4-7.
Museum Store and Cafe are currently closed.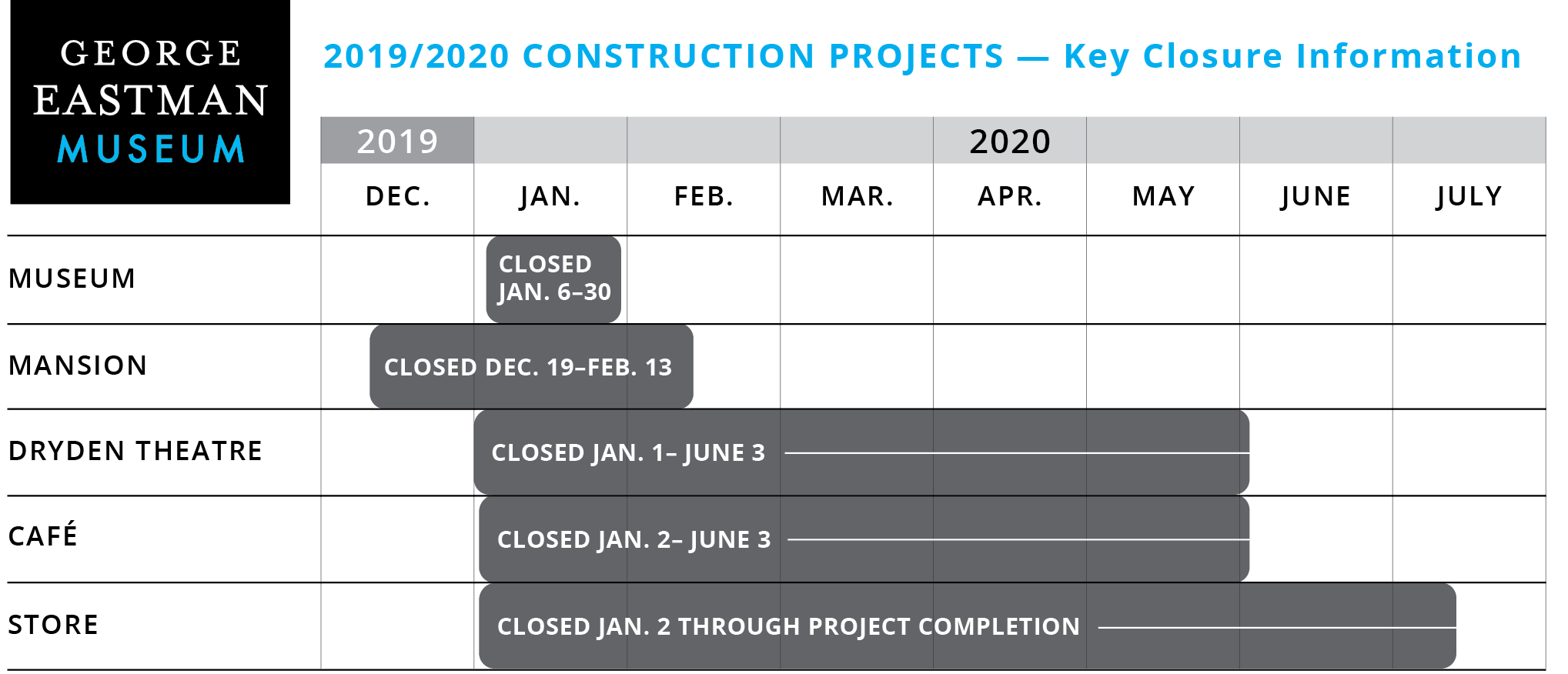 For more on current and upcoming projects, visit our Restoration & Construction page.
---
A Visit to the George Eastman Museum
Museum Hours

Tuesday
10 a.m.–5 p.m.
Wednesday
10 a.m.–5 p.m.
Thursday
10 a.m.–5 p.m.
Friday
10 a.m.–5 p.m.
Saturday
10 a.m.–5 p.m.
Sunday
11 a.m.–5 p.m.
Closed Mondays, Thanksgiving, and Christmas Day.
Admission

 
January 31–February 13
February 14–End of Project
Museum Members
Free
Free
Adults
$10
$15
Seniors (65+)/td>
$8
$13
Students (with ID)
$3
$5
Youth (ages 5-17)
$3
$5
Children (4 & under)
Free
Free
Free museum admission for SNAP and EBT cardholders and their families, and for active-duty military personnel and their families.
For group tours, please contact Guest Services at (585) 327-4838 or at tours@eastman.org. 
Photography Encouraged
Share your photos with #eastmanmuseum.
For our complete photography policy, click here.