Women photographers of the nineteenth and early twentieth centuries were always outnumbered but never outshone by their male counterparts. Anna Atkins, Julia Margaret Cameron, Genèvieve-Élizabeth Disdéri, Frances Benjamin Johnston, Gertrude Käsebier—these photographers are but a few women celebrated for their outstanding contributions to the art of photography. Countless others worked tirelessly to advance the burgeoning field. Often these women labored in the busy studios of influential men or in the hushed solitude of their homes. Their work dazzles and intrigues me, even though most remain anonymous and their contributions to photography largely unacknowledged.
#5WomenArtists aims to redress the marginalization of women in a field historically dominated by men. We cannot name the anonymous women of nineteenth-century photography; it is also difficult to identify their work as the work of women with any certainty. #5WomenArtists nevertheless reminds me to appreciate those who worked on the periphery of historical memory.
Nineteenth-century photographers often advocated hand-tinting or overpainting photographs to compensate for photography's inability to reproduce natural colors automatically. These techniques were particularly important to portrait photographers, who endeavored to make flattering likenesses of their (overwhelmingly white) middle-class clients. The application of color to a cheek, for example, imbued the sitter with the flush of youthful vitality. Likewise, color embellishment of clothing or jewelry called attention to the markers of social respectability and upward mobility. Portrait studios often employed women to tint their photographs. It was in this capacity that women first enjoyed entry into the marketplace of photography.   
Among the finest portrait photographers of the daguerreian era, Bostonians Southworth & Hawes (active 1843–1863) masterfully employed the practice of hand-tinting. Nancy Southworth Hawes, who was both Hawes's wife and Southworth's sister, was involved in day-to-day studio operations. In addition, she was often responsible for applying color tints by hand. Her function as such was not uncommon among the wives of nineteenth-century studio owners. In Paris, Madame Gouin is believed to have hand-tinted her husband's photographs. Moreover, Madame Gouin maintained such a high quality of picture making that, after his death, contemporaries wondered what role he had played in the operation of the studio.
By the end of the century, women had begun placing advertisements in trade journals. They looked to secure positions as colorists in a studio or to take in tinting piecework at home. "A Lady," one such advertisement read, "desires engagement to color Photographs….," while another woman, who specialized in "the finishing of old faded pictures," "invited country artists" to send her photographs to tint. Women colorists were so numerous that they presented an economic threat to their male counterparts. One anonymous competitor complained that women, particularly "lady amateurs," were unable to "reach a high standard of excellence" demanded by the art of hand-tinting. Such condemnation must have applied equally to the same work undertaken by any number of men, but these men—however unskilled—did not challenge art-historical or socio-economic tradition. 
Heather A. Shannon, assistant curator, Department of Photography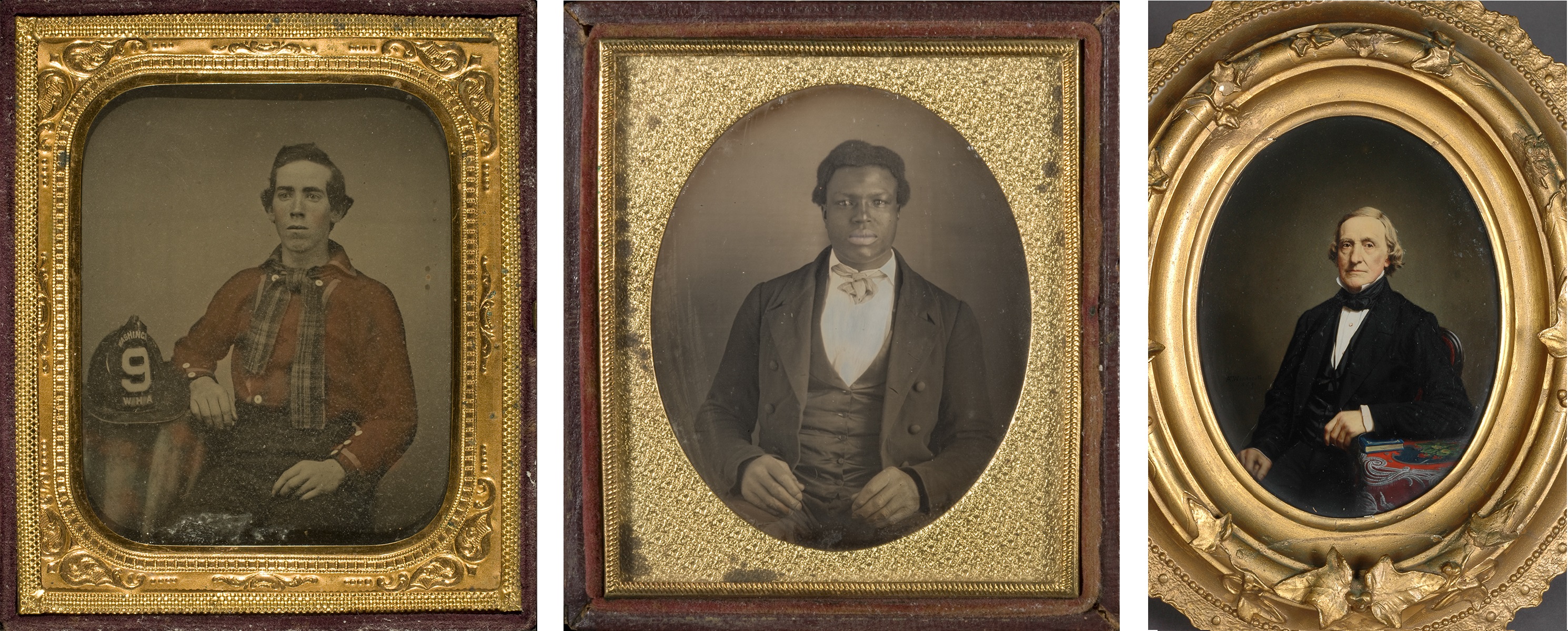 Photographs Pictured:
Upper left: Southworth & Hawes (American, active 1843–1863). Woman, ca. 1850. Daguerreotype with applied color. George Eastman Museum, gift of Mrs. Alden Scott Boyer.
Middle right: Unidentified maker. Girl, ca. 1850. Daguerreotype with applied color. George Eastman Museum, museum accession.
Bottom three, left to right: Unidentified maker. Fireman, ca. 1855. Ambrotype with applied color. George Eastman Museum, purchase.; Unidentified maker. Man, ca. 1850. Daguerreotype with applied color. George Eastman Museum, purchase.; F. A. Wenderoth (American, 1819–1884). Man, May 24, 1859. Ivorytype with applied color. George Eastman Museum, purchase.
Pictured in banner on main blog page at right: Unidentified maker. Mary Agnes Castner, ca. 1870. Albumen silver print with applied color. George Eastman Museum, gift of the 3M Foundation, excollection Louis Walton Sipley.