"Making Swades was such an emotionally overwhelming experience that I never saw the finished product. Didn't want the feeling to end…." — Shah Rukh Khan (@iamsrk) December 17, 2013, Twitter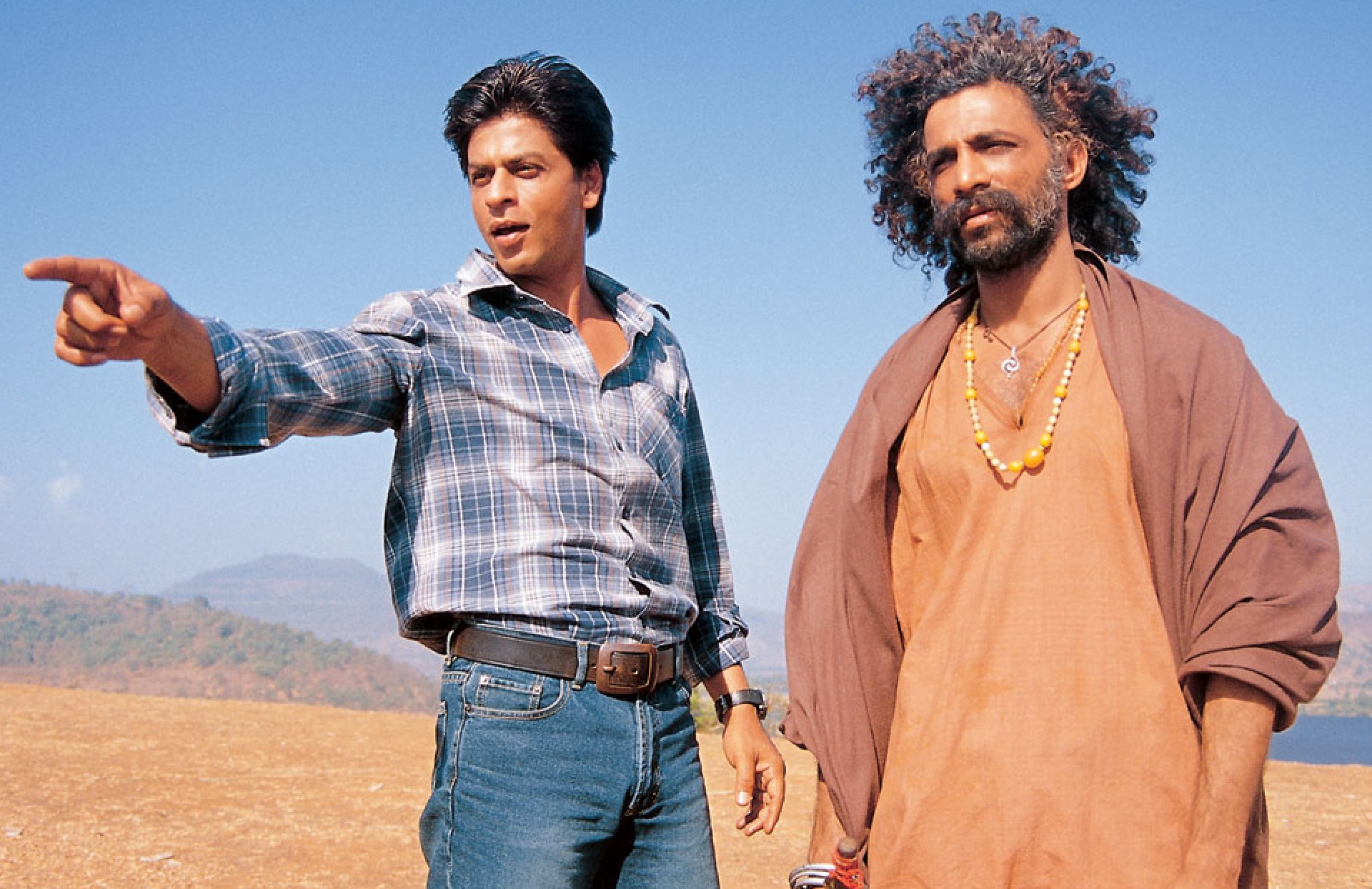 The people of the diaspora of India are often referred to as NRIs, or Non-Resident Indians. However, in the film Swades, NRI takes on a whole new interpretation: Non-Returning Indians. This is how Ivy-League-educated NASA engineer Mohan Bhargava (played by Shah Rukh Khan) is referred to by Gita (Gayatri Joshi in her movie debut), a young teacher struggling to bring education to the children of her village. But Mohan has returned to India, albeit to take his "second" mother back with him to the United States to give her a life of comfort and to ease his conscience for having lost track of her. He is clueless as to where she lives, what her needs or desires are, or what her attachments are.
Shah Rukh Khan has made a career of playing an NRI. One of his most successful films, Dilwale Dulhania Le Jayenge, set the standard for how NRIs may experiment with Western ways but at heart always carry traditional Indian values with them. What are those western ways as typically depicted in a Bollywood movie? Drinking, smoking, gambling & premarital sexual activity. In Swades, Mohan constantly tries to hide his very Western Marlboro cigarettes, with the negative influence of the west implied in the act, and his "caravan" RV with all its amenities that sharply contrasts with village life.
Director Ashutosh Gowariker (Lagaan) wanted to highlight issues in India regarding infrastructure, illiteracy & caste-based discrimination in a palatable, non-preachy way. The film was inspired by the work of two NRIs, Aravinda Pillalamarri & her husband, Ravi Kuchimanchi, who returned to India to bring about sustainable improvements to Indian villages and whose efforts were becoming widely publicized.
In the 90s, while studying for his PhD in particle physics at the University of Maryland, Kuchimanchi formed American-based chapters of the Association for India's Development (AID) which raised funds from students to fund projects in India. Pillalamarri, who had been in the US since infancy, volunteered at an AID chapter while studying for her Master's degree at the University of Wisconsin. With this common interest, they met, married and returned to India in 1998. One of their first projects was a pedal-power generator used to bring lighting to schools were there was no electricity. Even children took turns pedaling on a bike to convert the mechanical to electrical energy. One hour of pedaling generated three hours of electricity to a single light bulb. They trained the people of Bilgaon (population 300) located near two rivers' intersection to build a hydro-electric power source. Bilgaon never had electricity despite its prime location. 200 volunteer person-days later their village was the model used by the Maharashtra government for other such programs.
Nita Genova
Good Golly! It's Bolly! Course Leader
Osher Lifelong Learning Institute at RIT & Program Chair, Women's Council of RIT
Fun Facts
Opening with the Mahatma Gandhi quote: "Hesitating to act because the whole vision might not be achieved, or because others do not yet share it, is an attitude that only hinders progress," also gives insight into Shah Rukh Khan's character's name. Mohan is the shortened form of Mohandas––Gandhi's birth name.
Mahatma Gandhi's great-grandson Tushar Gandhi also noted the film's theme of Gandhism. He wished it had been a bigger box office success (though Swades is now seen as a cult classic which has gained greater appreciation over time).
This is the first Indian film to be shot inside the NASA research center and at Launch Pad 39A of the Kennedy Space Center in Florida.
Global Precipitation Measurement (GPM), is an actual NASA mission & was launched into orbit on February 27, 2014. GPM was in development for 12 years before launch and is an ongoing, international research project with Japan.
Gayatri Joshi (Gita or Geeta) never made another movie despite several accolades for "best female debut". She married in 2005 and had a baby in 2006. Marriage and motherhood has been the end (or least a long hiatus) for most female Bollywood stars' careers. In 2016, actress Kareena Kapoor bucked this trend by filming & modeling while pregnant.
In his film debut, the young boy singing is Aamir Khan (Lagaan's Bhuvan) who was seven years old at the time. To this day, that scene embarrasses him.
Mohan sits in on Gita's class and she asks him to name the four pillars of ruler Asoka's empire. Shah Rukh Khan played Asoka in 2001.
 The sheet separates the castes so that the lower caste villagers must watch the film reversed.
There are always references to the gods in Bollywood movies and the references would not be lost on an Indian audience. Mohan and Gita are seen as a modern-day Ram & Sita. (Sita was abducted by the evil god Ravana and was rescued & returned by Hanuman, who is often referred to as the monkey god, and a loyal devotee of Ram in the Ramayana.)
There are two references to Krishna (depicted with blue-hued, darker skin and often was mischievous in his behavior) when Mohan identifies his former nanny as "Yashoda" which is the name of Krishna's mother. When Gita sings the song, "Saanwariya, Saanwariya" (Beloved, Beloved) she refers to the "dark one". She is also watering a sacred "Tulsi" plant in the courtyard.
Learn More
Creekmur, Corey. "Indian Cinema: Swades." The University of Iowa, Philip'sfil-Ums, uiowa.edu/indiancinema/swades.
Desk, Express Web. "13 Years of Swades: Did You Know Aamir Khan Gave This Shah Rukh Khan Starrer Its First Clap?" The Indian Express, © IE Online Media Services Pvt Ltd, 17 Dec. 2017, indianexpress.com/article/entertainment/bollywood/13-years-of-swades-aamir-khan-gave-this-shah-rukh-khan-starrer-its-first-clap-see-photos-4986578/.
D'Souza, Dilip. "From Inspiring 'Swades' to Being Questioned on Immigration Status: Aravinda Pillalamarri's Journey." Scroll.in, Https://Scroll.in, 1 Feb. 2017, scroll.in/magazine/828148/from-inspiring-swades-to-being-questioned-on-immigration-status-aravinda-pillalamarris-journey.
Gowariker, Ashutosh, director. Swadesh. Https://Www.youtube.com/Watch?v=7v07PLlIPgo, You Tube Movies, 14 July 2017, www.youtube.com/watch?v=7v07PLlIPgo. Purchase price $2.99
Jenner, Lynn. "Global Precipitation Mission." NASA, NASA, 5 Mar. 2015, www.nasa.gov/mission_pages/GPM/spacecraft/index.html.
Manwani, Askshay. Music, Masti, Modernity: the Cinema of Nasir Husain. Fourth Estate, 2016.
Shepard, J Marshall. "Reflecting on NASA's Global Precipitation Measurement Mission, Launching Today." The Planetary Society Blog, The Planetary Society, 27 Feb. 2014, www.planetary.org/blogs/guest-blogs/2014/0227-reflecting-on-nasas-gpm-m….
Sharma, Isha. "7 Scenes From SRK's 'Swades' That Make It One Of The Most Underrated Gems In Bollywood." Indiatimes.com, Indiatimes.com, 17 Dec. 2016, www.indiatimes.com/entertainment/celebs/7-scenes-from-srk-s-swades-that….
"Swades." Wikipedia, Wikimedia Foundation, 5 Feb. 2018, en.wikipedia.org/wiki/Swades.
"Swadesh." Swadesh-My India-Home, 2010, www.swadesh.com/.
Various. "Plot." IMDb, IMDb.com, www.imdb.com/title/tt0367110/plotsummary.
Wikipedia contributors. Focus On: 100 Most Popular Indian Drama Films: Begum Jaan, Ok Jaanu, Dear Zindagi, Bajirao Mastani, Pink (2016 film), Udta Punjab, Bajrangi Bhaijaan, Secret ... Aashiqui 2, Om Namo Venkatesaya, etc. (Kindle Locations 32336-32352). Focus On. Kindle Edition.