Definitive archive of original materials reflects museum's leadership in preservation and commitment to contemporary art

Rochester, N.Y., October 8, 2015—The George Eastman Museum announced today that William Kentridge has donated the complete set of his films, videos, and digital-born works to the museum. The gift comprises both original negatives and positive prints covering Kentridge's entire career as a filmmaker, as well as all of the master elements of the renowned artist's works in electronic and digital media. As the home of the definitive collection and archive of Kentridge's time-based works, the Eastman Museum is now the leading resource for the appreciation and study of this extraordinary body of work.
"The George Eastman Museum, well known for its leadership in historic collections and preservation, is equally dedicated to collecting contemporary works," said Bruce Barnes, Ron and Donna Fielding Director, George Eastman Museum. "William Kentridge is a great innovator in moving images and a leading figure in contemporary art. This is a landmark gift for the museum."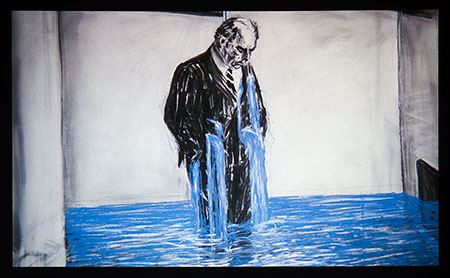 William Kentridge (South African, b. 1955). Stereoscope, 1999. From the series Drawings for Projection. Frame enlargement from a 16mm acetate print. George Eastman Museum, gift of the artist.
Kentridge is best known for his animated films made with his groundbreaking technique of photographing a succession of charcoal drawings rendered on a single sheet of paper. His gift to the museum comprises more than one hundred titles spanning the artist's entire career—from his recently rediscovered Discourse on a Chair (1985) to his critically acclaimed Drawings for Projection (1989 on) to his most recent work, More Sweetly Play the Dance (2015). The gift also encompasses numerous reels of unedited original camera footage and pristine projection prints. These include tapes and digital files showing the artist rehearsing and experimenting in his studio. Kentridge has indicated his plan to donate to the Eastman Museum his future time-based works, including his moving image works for the Metropolitan Opera's upcoming production of Lulu by Alban Berg.
"I am very impressed by the George Eastman Museum's dedication to the moving image as an art form," said William Kentridge. "I am delighted to have my work preserved by the museum, and very much look forward to assisting its curatorial staff in achieving their mission."
When Kentridge first began making his works, his technique signaled a radical departure from the traditional practice in animation whereby each change in the image registers on a fresh acetate sheet or cel. In taking leave of this approach, Kentridge defers to the power of the eraser—a device that has come to define the unique style of his films. By foregrounding the process of erasure, the artist calls attention to the material conditions of drawing itself, while lending a concrete visual form to abstract concepts such as transience, memory, and violence. Although he may be described as a thoroughly contemporary filmmaker, Kentridge often draws inspiration from the achievements of early cinema, notably film pioneer Georges Méliès, the creator of A Trip to the Moon (1902).
"With his creative work, William Kentridge has positively erased the boundaries between cinema and the other fine arts," said Paolo Cherchi Usai, senior curator of the museum's Moving Image Department. "His selection of the Eastman Museum for the long-term preservation of his films and other time-based works is a matter of great honor and pride for our institution. We eagerly anticipate undertaking scholarly and exhibition projects on the artist's oeuvre."
Alongside their many aesthetic and formal preoccupations, Kentridge's works routinely exhibit a concern with politics and society. As the son of lawyers who devoted their careers to reforming South Africa's apartheid system, William Kentridge carries on his parents' activist legacy, less through direct social intervention than by harnessing the powers of art to shape perception, memory, and history.
In addition to preserving Kentridge's time-based works, the Eastman Museum has future plans for a major exhibition of Kentridge's films, videos, and other time-based media, together with the publication of The Kentridge Project, a catalogue raisonné in which the artist will discuss each work in an extensive oral history interview. The artworks will also be made available for scholarly and academic research.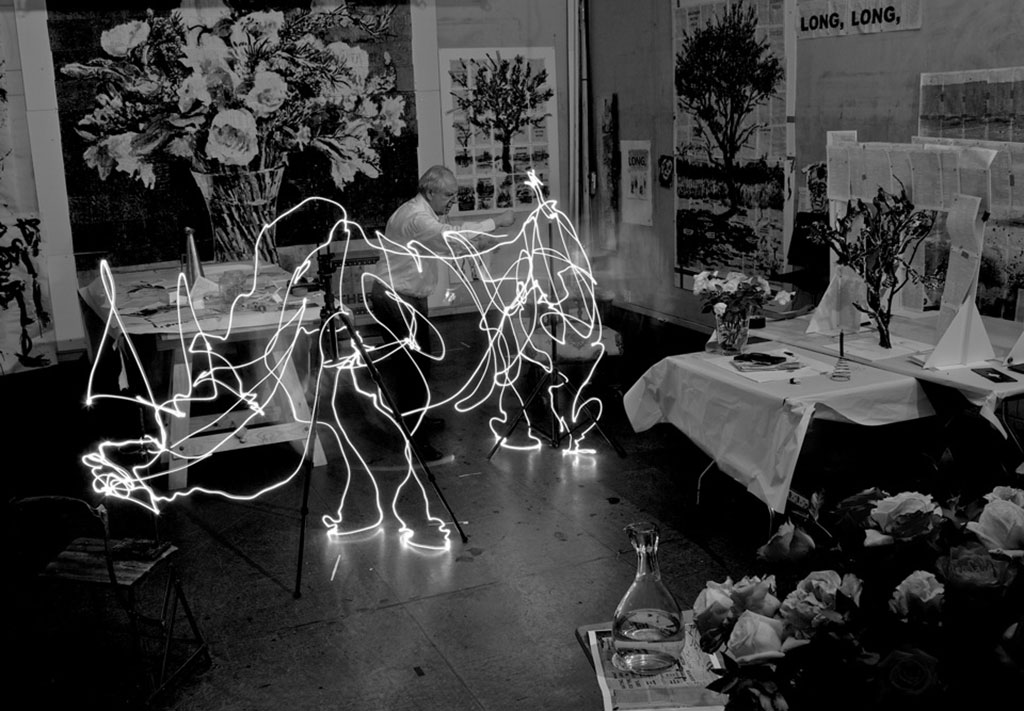 William Kentridge (South African, b. 1955). Stereo Rhino. Drawn with light in the artist's studio and captured with a timed exposure. George Eastman Museum, gift of the artist.
William Kentridge (South African, b. 1955). Other Faces, 2011. From the series Drawings for Projection. Digital scan from the master Digital Betacam videotape. George Eastman Museum, gift of the artist.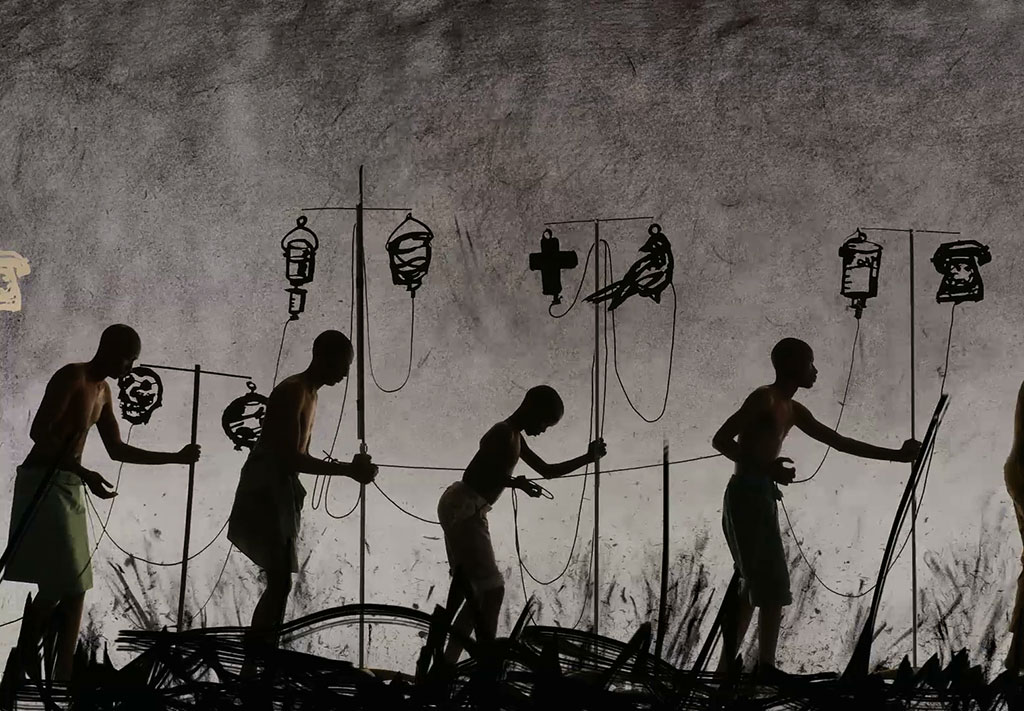 William Kentridge (South African, b. 1955). More Sweetly Play the Dance, 2015. Digital scan from the master Apple ProRes file. George Eastman Museum, gift of the artist.
About William Kentridge William Kentridge (South African, b. 1955) first garnered widespread international acclaim in 1997 when two of his animated films were screened at the Documenta X exhibition in Kassel, Germany. Since then, his works have appeared in major film festivals and art galleries worldwide. He has been the subject of solo exhibitions in prestigious venues such as the Metropolitan Museum of Art, Museum of Contemporary Art Chicago, Museum of Modern Art, San Francisco Museum of Modern Art, and Tate Modern. Select pieces of his work are included in the collections of all of these museums and many others.
About the George Eastman Museum Founded in 1947, the George Eastman Museum is the world's oldest photography museum and one of the largest film archives in the United States, located on the historic Rochester estate of entrepreneur and philanthropist George Eastman, the pioneer of popular photography. Its holdings comprise more than 450,000 photographs; 28,000 motion picture films; the world's preeminent collection of photographic and cinematographic technology; one of the leading libraries of books related to photography and cinema; and extensive holdings of documents and other objects related to George Eastman. As a research and teaching institution, the Eastman Museum has an active publishing program and, through its two joint master's degree programs with the University of Rochester, makes critical contributions in the fields of film preservation and photographic conservation. For more information, visit eastman.org.
###