The Dawn of Technicolor, 1915–1935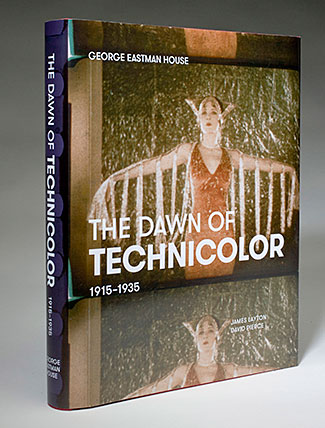 Written by James Layton and David Pierce
Filmography by Crystal Kui and James Layton 
ISBN 9780935398281
The Dawn of Technicolor is the first detailed history of Technicolor's formative years. Authors James Layton and David Pierce recount the first two decades of one of the most widely recognized names in the American film industry, painstakingly reconstructing the company's early years from a wealth of previously untapped internal documentation, studio production files, firsthand accounts, and unpublished interviews. The book is lavishly produced with more than 400 images, and it includes a comprehensive annotated filmography of all two-color Technicolor titles.
Technicolor is today most associated with films made during the height of the Hollywood studio era—color classics such as The Adventures of Robin Hood (1938), The Wizard of Oz (1939), and Singin' In the Rain (1952). But this celebrated period of creative and technical achievement was possible only after twenty years of tireless research and development.
Following its incorporation in 1915, Technicolor developed a series of two-color processes as necessary steps toward full-color photography and printing. Despite success in the laboratory and in small-scale production, the company was plagued by repeated disappointments. The feature filmsThe Gulf Between (1917), The Toll of the Sea (1922), Wanderer of the Wasteland (1924), and The Black Pirate (1926) each showed tremendous promise in photography and color design, but implementation flaws resulted in technical problems and commercial failure. Each time, the company retooled and tried again. With the support of patient investors and the visionary leadership of Herbert T. Kalmus, Technicolor eventually prevailed against daunting odds to create the only commercially viable color process for motion pictures.
The Dawn of Technicolor investigates these vital make-or-break years, as the firm grew from a small team of exceptional engineers into a multimillion-dollar corporation. Color provided new creative tools for filmmakers, but also introduced new challenges on set, in the laboratory, and during projection. The authors chart the making of pivotal films in the process, from the troubled productions of Ben-Hur (1925) and The Mysterious Island (1926-29), to the early short films in Technicolor's groundbreaking three-color process: Walt Disney's animated Flowers and Trees (1932) and the live-action La Cucaracha (1934). The book spotlights the talented engineers and filmmakers associated with Technicolor, and the remarkable technical innovations that finally made color films practical, changing the film industry forever.
Reviews
"The book is carefully laced with a variety of photographs, film strips, diagrams, and images of archival texts and diaries, giving a beautifully textured visual history . . . It takes you through the complex and multifaceted aspects of the company's development, giving a great sense of the personal and professional aspirations, challenges, set-backs, and triumphs." (Rosie Taylor, Silent London)
The Dawn of Technicolor "is one of the most thorough and informative books on the cinematic process that can be had . . . Authors James Layton and David Pierce carefully investigate and examine the process of Technicolor, from its primitive beginnings in the silent era to its growth into the early days of talking pictures. The challenges in filming and processing, the impact, and the evolution of the technology as film itself continued to grow, are all covered with complete and fascinating information." (James L. Neibaur, Examiner.com)
"One of the book's highlights is an extensively annotated filmography of every film produced in two-color Technicolor from 1917 to 1937, compiled by Crystal Kui and James Layton (with the collaboration of Almudena Escobar López, Daisuke Kawahara, and Catherine A. Surowiec). Many entries are accompanied by frame enlargements from surviving prints or fragments of prints-from an image of Gloria Swanson in Stage Struck to a title card for Clara Bow's Red Hair. For many film buffs, this section alone will make The Dawn of Technicolor a must." (Leonard Maltin, Indiewire 2015-02-10)
About the Authors
| | |
| --- | --- |
| | James Layton is a historian and archivist specializing in motion picture technology, in particular the development of color and widescreen in the 1920s and 1930s. As research and information specialist in the Moving Image Department at the George Eastman Museum, he was responsible for the strategic development of the museum's Technicolor collections. Layton curated the Eastman Museum exhibitions Bigger Than Life: CinemaScope at 60 in 2013, and In Glorious Technicolor in 2015. He previously served as a cataloger and workflow coordinator at the East Anglian Film Archive in Norwich, England. Layton is a graduate of the Surrey Institute of Art and Design and the L. Jeffrey Selznick School of Film Preservation. He has lectured in film archiving at the University of East Anglia and the Selznick School. He is co-author of the poster Knowing and Protecting Motion Picture Film (Image Permanence Institute, 2009). |
| | David Pierce is a historian and archivist whose research examines the connections between film history, copyright, distribution, exhibition, and ownership. His articles have appeared in American Cinematographer, American Film, Film Comment, Film History, The Journal of Film Preservation, and The Moving Image. His report The Survival of American Silent Feature Films: 1912-1929 was published by the National Film Preservation Board of the Library of Congress in 2013. Pierce founded the Media History Digital Library to provide free and open access to the printed record of the motion picture, broadcasting, and recorded sound industries. He is a member of the editorial board of The Moving Image, the journal of the Association of Moving Image Archivists. He has lectured at film preservation schools, academic conferences, and festivals. Pierce is a graduate of the University of North Carolina, Chapel Hill, and he received an MBA from George Washington University in Washington, DC. |