In Glorious Technicolor
Founded in 1915, the Technicolor Motion Picture Corporation transformed cinema forever with its revolutionary color processes. The George Eastman Museum marked this important centennial with the exhibition In Glorious Technicolor, on view January 24 through April 26, 2015, in the museum's main galleries.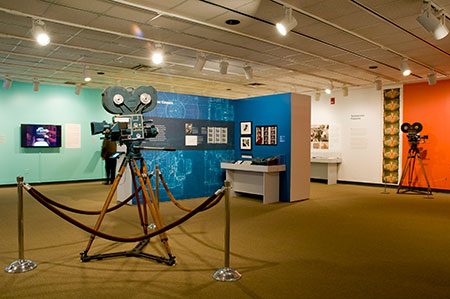 The exhibition celebrates Technicolor's vivid history, from the company's early years through the making of such classics of the Hollywood studio era as The Wizard of Oz (1939), Gone With the Wind (1939), and Singin' In the Rain (1952). Technicolor's wide-ranging impact on the form and content of cinema is explored through original artifacts from the Technicolor Corporate Archive, projected video clips, and a range of stunning visual displays.
Highlights include the company's evolving camera technology, from its early two-color camera from the 1920s to the massive Technirama widescreen system of the 1950s. Original costumes, production designs, posters, and photographs document how color was used creatively and presented to the public, while the vibrant dyes used to create Technicolor's incomparable "look" shed light on the science behind the process. Rare tests from Douglas Fairbanks's The Black Pirate (1926), behind-the-scenes stills from the Errol Flynn's The Adventures of Robin Hood (1938), and home movies from the set of The African Queen (1951) reveal the stars and filmmakers most associated with color. Additionally, the exhibition honors the achievements of Academy Award–winning cinematographers Ray Rennahan and Jack Cardiff, as well as Technicolor's often overlooked engineers, whose work remained largely out of the limelight.
To complement the gallery exhibition, the Dryden Theatre at the George Eastman Museum presented a four-month series of Technicolor films, including original Technicolor prints.